Chilean Wines 101: An Overview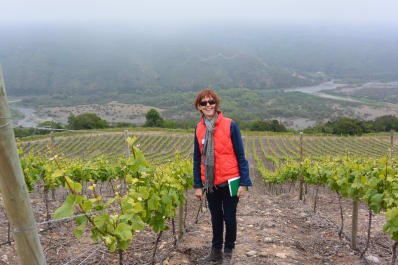 Chilean wine. What is the first thing that comes to mind when you think of Chilean wines? For me it is the vibrancy, juiciness, brightness and purity of fruit that pops from the glass. And of course, let's not forget value and the easy to understand varietal labeling that makes Chilean wine so accessible.
Here's my Chilean Wines 101 — a mini course in understanding and enjoying the vibrant wines coming from this part of the world.
This week I am down under exploring the stunningly beautiful vineyards of both Chile, and Argentina, with a small group of wine bloggers from the U.S. We were kindly invited by Winebow, a New York importer of fine wines and most noted for its Italian and South American portfolio.
Over the next few weeks I will be posting about some of the specific winery visits and wines tasted, but first here is a more general overview, which I hope helps give you a sense of who Chile is as a wine producer and the diversity of the country's wines.
Chile in Perspective: An Important Global Player
With almost half a million acres under vine, Chile is the 8th most important wine producing country in the world (OIV 2012 statistics). (About half of this area is in the hotter northern regions and planted with either table grapes or Muscat, which is used to make Chile's famous Pisco spirit.) Production volume has increased by almost 30% since 2007.
Interestingly, Chile exports circa 70% of its wine production, ranking fifth place for global wine exports and placing it among the most globalized wine countries.
Location and Physical Landscape
Chile is located in the southern hemisphere. Therefore, as we slip into fall and harvest time in the northern hemisphere, it is springtime in Chile, with vines at the more delicate stages of shoot growth and inflorescence development.
Chile is a long thin stretch of a country, with over 3000 miles of coastline, situated south of Peru and west of Argentina. As a wine growing country Chile is blessed with a number of critical natural geographic barriers.
There is the Atacama Dessert to the north (where apparently it has not rained for 17+ years) and the famous Andes Mountains to the east, which both help protect Chile from the invasion of such vineyard pests as phylloxera. To the west there is the Pacific Ocean and to the south the Patagonian ice fields, which provide important climatic cooling and moderating influences. These natural geographic features also provide Chile with diverse micro-climates and terroirs suited to different grape varieties and wine styles.
A 101 Guide to Chile's Main Wine Growing Regions
Sadly, many wine consumers still simply refer to Chilean wine as either 'Chilean red or white' with perhaps a simple reference to the grape variety. In my opinion regionality in Chile is not particularly well understood by the vast majority of wine U.S. wine consumers. Perhaps this is partly because many of the high volume brands of Chilean wine which grace our retail shelves are the product of inter-regional blending. But believe me, regionality does exist!
While grape growing and wine production was traditionally focused on the Chile's Central Valley, the past two decades has seen tremendous exploration and understanding of new and especially cooler coastal areas compared to the warmer more inland areas towards the Andes.
Briefly, Chile is divided into four main wine producing areas, which are then sub-divided into more specific and exciting smaller designated wine areas. From north to south I will try to simplify these four regions:
Coquimbo - The Coquimbo region is in the north, where lots of table grapes are grown. Two emerging premium wine grape areas here are Limarí and Elqui, both much cooler coastal sub-regions. While still work in progress both are gaining a good reputation for well-structured, expressive white wines as well as cooler climate Syrah, Carmenère and Pinot Noir.
Aconcagua Region - Aconcagua is north of the Central Valley. Before the potential of Limarí and Elquí were discovered Aconcagua was considered the most northern limit for wine grape cultivation in Chile. The area includes the Aconcagua Valley itself, a warm dry area best fro full-bodied sturdy reds. Nearer the coast there is the Casablanca Valley, which has become a Chilean synonym for 'cool climate' and, the even cooler and more dramatic Leyda Valley, both sources of Chile's top Sauvignon Blanc wines. While still somewhat 'work-in-progress' these two coastal areas are also places to watch out for in the future for bright, elegant Pinot Noir and cool climate Syrah wines.
Central Valley - The most well known region, the hub or engine room and largest wine producing area, conveniently situated near the capital city Santiago. However, it is not one homogenous fertile expanse of vineyard land. The Central Valley includes many smaller importantly differentiated sub-regions. The most important include the long established Maipo, the well-established source of some of Chile's top Cabernet Sauvignon wines. Being so large Maipo is further sub-divided into Coastal Maipo, Middle or Central Maipo and Alta Maipo, which reaches into the foothills of the Andes.


Still technically in the Central Valley, but further south lies the much sought after red wine area, the Colchagua Valley and its jewel of a sub-region the Apalta — a tiny steeply sloped breathtakingly beautiful sub-area, making tightly structured, concentrated red wines from Cabernet Sauvignon, Syrah and Carmenère. The Central valley also includes the Rapel, Cachapoal, Curicó and Maule Valleys.
Southern Regions - Much further south, traditionally considered too cold for quality grape growing, there are a number of emerging areas to watch for in the future. The most important to know are Bío Bío and Itata Valleys.
Next week I will focus on some of the producers visited such as Viña Ventisquero and its Root:1 range of wines, TerraNoble, Leyda Vineyard and of course the legendary Cousiño Macul – all important exporters to the United States.
(Images: Mary Gorman-McAdams Map of Chile courtesy of Wines of Chile)