"Chef's Table: Pastry" Is Set to Debut in April on Netflix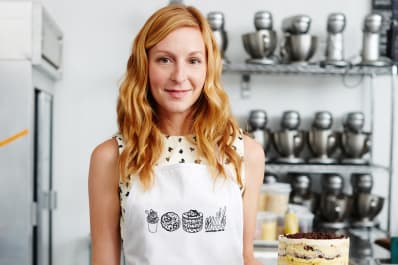 (Image credit: Courtesy of Milk Bar/Winnie Au)
Chef's Table, Netflix's critically acclaimed documentary series about the world's best chefs, is about to get a very sweet new season. The upcoming Chef's Table: Pastry will bring the show's signature in-depth storytelling and incredible visuals into the pastry kitchen.
Chef's Table is directed by David Gelb, director of Jiro Dreams of Sushi. Like the original version of the show, Chef's Table: Pastry will spend each of its hour-long episodes profiling one of the world's best pastry chefs. There will be four episodes in the season; the full lineup of chefs has not yet been announced, but the first chef profiled will be Milk Bar's Christina Tosi.
Tosi is a MasterChef judge and one of the most famous pastry chefs in the world. She's the creative force behind Milk Bar's famed cereal milk ice cream, bagel bombs, and compost cookies. She's also credited with turning "naked" cakes like the one above into a major pastry trend.
As you can see from the photos, the show will start streaming on Netflix on April 13. Chef's Table's three savory seasons highlighted the creative processes and technical skills of some of the world's best chefs, including Nancy Silverton, Dominique Crenn, Grant Achatz, Jeong Kwan, and more. It's pretty exciting that they will finally be taking their cameras into the pastry kitchen. As the wild successes of Great British Bake Off and countless YouTube cookie-decorating channels prove, audiences really like watching people bake.
For a sneak peek of what to expect from Chef's Table: Pastry, check out this video of Tosi's staff at Milk Bar preparing funfetti cakes and cookies to dramatic classical music.
Will you be planning on checking out Chef's Table: Pastry?