Chef Yigit Pura's Tiny Colorful Kitchen
We
independently
select these products—if you buy from one of our links, we may earn a commission. All prices were accurate at the time of publishing.
Yigit Pura is best known for winning the first season of Top Chef Just Desserts. Most recently he is in the midst of opening his first ever patisserie, Tout Sweet, in San Francisco. His home kitchen is tiny yet colorful, cheerful, and completely efficient. Come take a peek!
Yigit spends so much time in executive-sized kitchens, thinking, eating, and practically sleeping food. At home his humble little kitchen is bright green, brand new and sleek with shiny appliances. He enjoys all brand new appliances as he is the first owner of his apartment, which just adds a fresh charm to the whole place.
I loved the cabinets that open up vertically (sort of like storage compartments in airplanes.) He noted that he hates the green, but I found the color super rad and different than anything I'd ever seen. Most of all, this is well loved and well used personal space.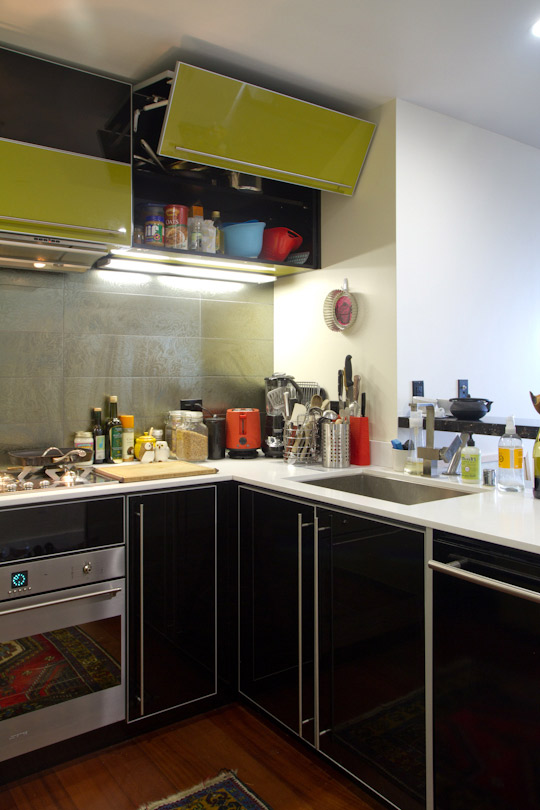 1. What inspires your kitchen and your cooking?

As a pastry chef, all I cook all day is sugar…what inspires me in my home kitchen is functionality, comfort, good dinners.
2. What is your favorite kitchen tool or element?

Lately, I am obsessed with Nespresso Coffee Machine. I don't know how I ever lived without it!
3. What's the most memorable meal you've ever cooked in this kitchen?

Being Turkish and a Buddhist this past Christmas I gathered all my stray friends and I cooked a huge Turkish Festivus dinner. It was filled with love.
4. The biggest challenge for cooking in your kitchen:

Being used to being in an enormous kitchen with dishwashers and all my fancy equipment… I forget how difficult being a one man army is.
5. Is there anything you wish you had done differently?
Every time I stare at the color green in the fixtures, I wish they were red.
6. What was your biggest indulgence or splurge in the kitchen?

If a way to a person's heart is through their stomach, is there such a thing as splurging? Or is it just right?
7. Is there anything you hope to add or improve in your kitchen?

Get rid of the green, I hate the color green.
8. How would you describe your cooking style?

Tout Sweet. ☺
9. Best cooking advice or tip you ever received?
Being a professional chef every time I cook by myself in my kitchen I always have compassion and sympathy for everyone who does it on a daily basis.
10. What are you cooking this week?
We would normally let the homeowner answer this, however, as a guest in Yigit's home, he just cooked me Bhutanese red rice, sautéed butternut squash with dino kale, with Vega omega 3 oil blend. And popcorn with nutritional yeast for dessert. Very Northern California!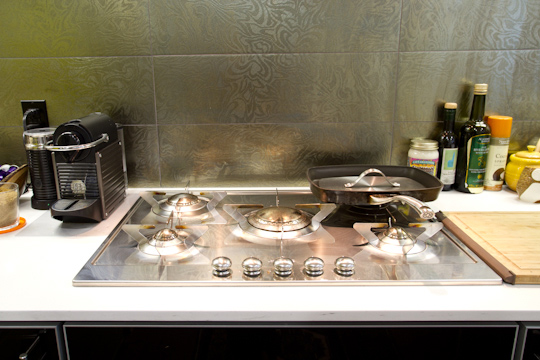 Resources of Note:
• Dishware – Pier 1
• Cutlery – Crate & Barrel
• Nespresso Machine – Bloomingdales
• Small appliances – Bed, Bath and Beyond
• Modern knife block – Bodum
• Pots and Pans – All-Clad ( "or Nothing!")
• Rice cooker- Bed Bath and Beyond
• Modern knife block – Bodum
• Pots and Pans – All-Clad ( "or Nothing!")
• Rice cooker – Bed Bath and Beyond
• Glassware- Japan town SF
• Colored Tupperware – Daison in Japan Town SF
• Maui's little kitchenette – Food container Bed Bath and Beyond, bowls from Jonathan Adler
• Artwork – local SF artist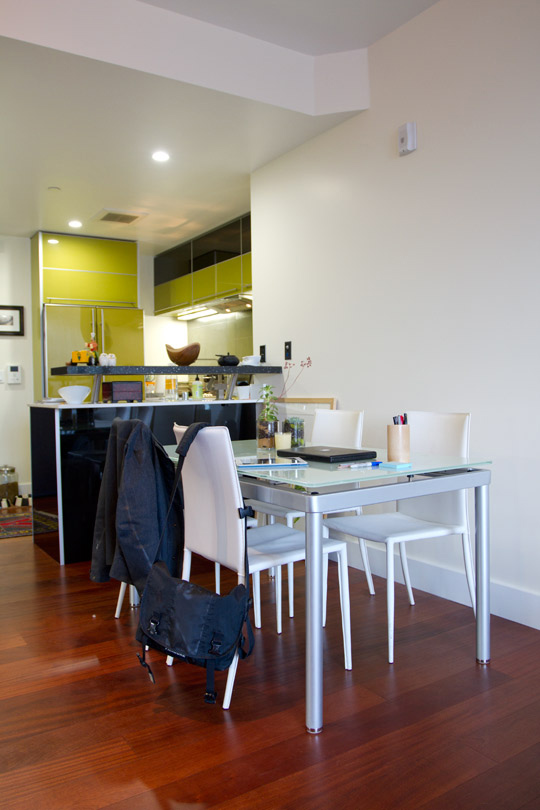 Thanks, Yigit!