A Week of Cheap and Easy Low-Carb Dinners
We independently select these products—if you buy from one of our links, we may earn a commission. All prices were accurate at the time of publishing.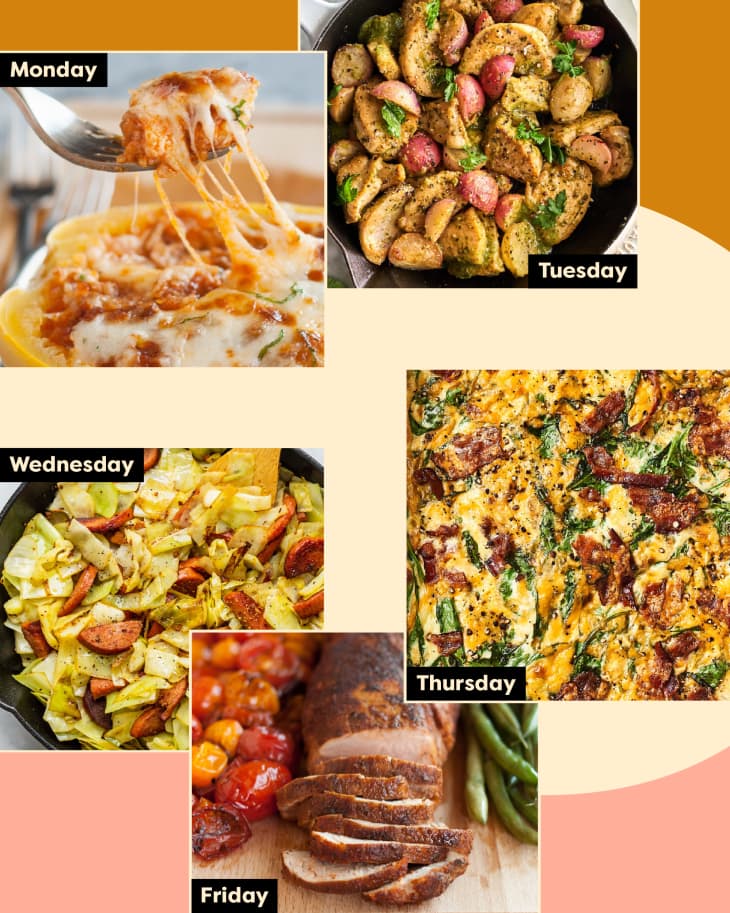 Keeping your carb count down while also getting a dinner on the table that's satisfying, easy, and doesn't totally break your budget has the potential to feel like a really big ask. Guess what, though? It's totally doable, and perhaps easier than you might think. It just takes some inspiration to get the ball rolling. This meal plan is stacked with budget-friendly, low-carb dinners the whole table will enjoy.
Monday: Lasagna-Stuffed Spaghetti Squash
Pasta might be off the table, but that doesn't mean you need to skip saucy, cheesy lasagna altogether. Getting your lasagna satisfaction just takes a little creativity, which happens here by swapping carb-heavy noodles for spaghetti squash. Get a head-start by cooking the spaghetti squash during weekend meal prep (the Instant Pot or microwave are the fastest options), and even prep the filling in advance, if you like.

Get the recipe: Lasagna-Stuffed Spaghetti Squash
Tuesday: Green Goddess Skillet Chicken and Veggies
The beauty of tonight's chicken and veggie skillet is that it requires just three ingredients. Creamy, herb-packed green goddess dressing serves as both a marinade and sauce. The recipe calls for radishes, although turnips are another low-carb choice that work well here. And if you'd like to keep the cost down you can always use boneless thighs in place of pricier breasts.

Get the recipe: Green Goddess Skillet Chicken and Veggies
Wednesday: 30-Minute Kielbasa and Cabbage Skillet
With its very low carb count, cabbage is a great choice for anyone watching their carbs, and this easy skillet is such a fun way to make it the star of dinner. Don't have kielbasa on hand? Try a pack of smoked chicken sausage. A spoonful of whole-grain mustard and splash of apple cider vinegar at the end of cooking add a big pop of flavor.

Get the recipe: 30-Minute Kielbasa and Cabbage Skillet
Thursday: Easy Crustless Quiche
Keeping an egg bake in your dinner rotation is always a good idea. Not only is it an easy way to use up any leftover meat, cheese, and veggies lingering in the fridge, but there's also almost always bound to be leftovers, which make for a great lunch or breakfast.

Get the recipe: Easy Crustless Quiche
Friday: Southwestern-Spiced Pork Tenderloin
A few pantry spices quickly jazz up mild-mannered pork tenderloin. And since you've already got the oven fired up to roast the meat, why not also throw in some Brussels sprouts, cauliflower, or broccoli florets for an easy side dish to round out dinner?
Get the recipe: Southwestern-Spiced Pork Tenderloin
New to meal planning? Start here.
Click below to get more tips, insights, and ideas from our Meal Plan Club crew and readers like you.
Meal planning isn't always easy — especially if you're just getting started. But we're firm believers that it's the secret to stress-free weeknight dinners. We want to help you find inspiration and ease some of the pain points that come with getting dinner on the table night after night, whether you're cooking one or a family of four or five. Every week we share a new meal plan solution specifically customized for you from reader requests or from a guest contributor, for Next Week's Meal Plan!