A Week of Cheap and Easy Instant Pot Dinners
We
independently
select these products—if you buy from one of our links, we may earn a commission. All prices were accurate at the time of publishing.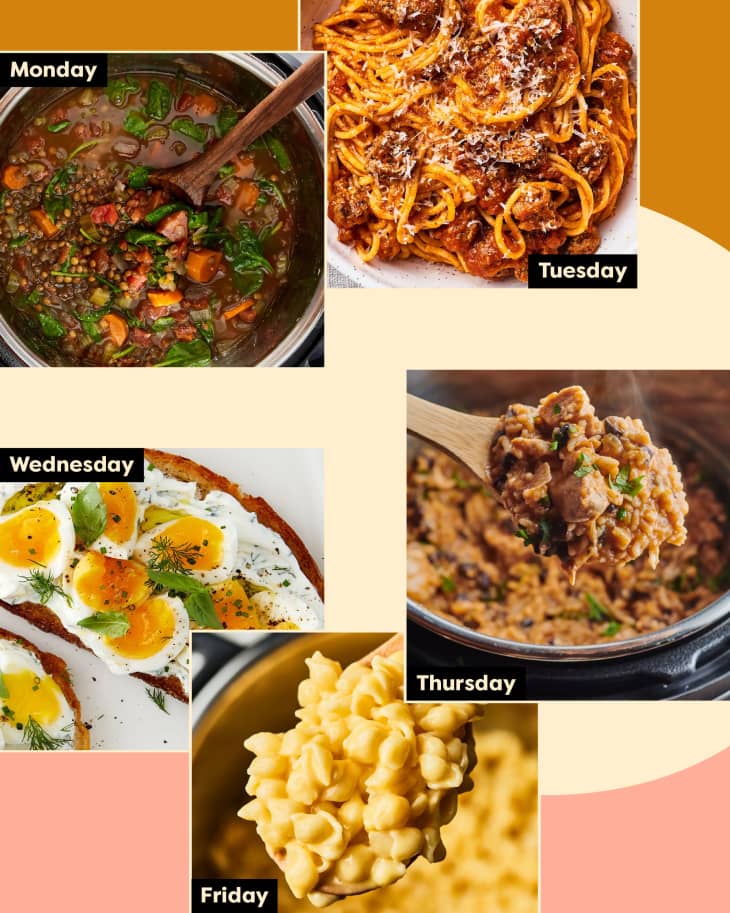 Here's my current situation: I'm craving really delicious, comforting dinners, but my energy for actually cooking dinner is seriously low. I do have a smart solution, though: using my Instant Pot. I'm leaning on my pressure cooker every single night this week to pull off some really good dinners that are quick, low-effort, and keep the dirty dishes to a minimum. And as a bonus, each meal starts with basic pantry ingredients, like pasta, lentils, beans, and rice, so this week's meal plan goes easy on my grocery budget. And while I am using my Instant Pot, you can use any brand of electric pressure cooker you happen to own for all of these meals. Here's what I'm making.
Monday: Instant Pot Lentil Soup
Save for chopping a couple of vegetables, tonight's dinner is a total drop-and-go affair. You don't even have to sauté anything, yet the results would make you think otherwise. I'll partner the soup with a thick slice of bread, and save the leftovers for lunch throughout the week or stash them in the freezer for another time.

Get the recipe: Instant Pot Lentil Soup
Tuesday: Instant Pot Spaghetti with Meat Sauce
The Instant Pot makes the absolute best spaghetti and meat sauce. You'll brown the meat using the Sauté function, then everything — meat, sauce, pasta, and water — cooks together. When it's done, the noodles are just tender enough and the sauce clings to them perfectly. While it's not necessarily faster than the stovetop method, it does mean you'll have fewer dishes to wash, and that's always a win.

Get the recipe: Instant Pot Spaghetti with Meat Sauce
Wednesday: Smashed Egg Toasts with Herby Lemon Yogurt
For tonight's dinner, I'll make the eggs in the Instant Pot, but instead of the usual 5-5-5 method, go for 5-4-5 (meaning I'll pressure cook the eggs for 5 minutes, let the pressure release naturally for 4 minutes, then dunk them in an ice bath for 5 minutes). Reducing the rest time by even just a minute will leave the eggs with softer centers that are perfect for smashing. While the eggs cook, there's just enough time to make the yogurt spread and toast the bread.

Get the recipe: Smashed Egg Toasts with Herby Lemon Yogurt
Thursday: Instant Pot Weeknight Chicken Enchilada Bowls
Friday: Instant Pot Macaroni and Cheese
Here's the most comforting (and easy!) way I know to end the week: ultra-creamy mac and cheese. Dinner comes together with just five ingredients, and from start to finish will be on the table in just 20 minutes.

Get the recipe: Instant Pot Macaroni and Cheese
New to meal planning? Start here.
Click below to get more tips, insights, and ideas from our Meal Plan Club crew and readers like you.
Meal planning isn't always easy — especially if you're just getting started. But we're firm believers that it's the secret to stress-free weeknight dinners. We want to help you find inspiration and ease some of the pain points that come with getting dinner on the table night after night, whether you're cooking one or a family of four or five. Every week we share a new meal plan solution specifically customized for you from reader requests or from a guest contributor, for Next Week's Meal Plan!