15 Little Luxuries from Amazon — For $30 or Less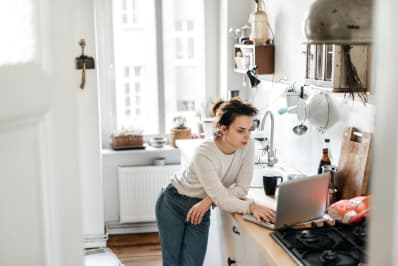 (Image credit: minamoto images/Stocksy)
The best gifts to give (and receive) are the ones that you don't know you need until you get them. Maybe they feel just ever-so-slightly too spendy and it's hard to justify the expense, so you live without them. But these little luxuries are exactly the presents your friends, family, and work wives will cherish the most. Because, yes, there is someone in your life who really needs a garlic keeper — and you will change her life.
This handsome container is for the fledgling coffee fanatics in your life. Maybe they've just discovered pour over or maybe they've recently bought a French press (and are telling everyone about how much better it is than drip). Regardless, they're going to need somewhere to store their (probably single-origin) beans. This canister will keep those beans fresh and is smart enough to leave out on the counter — win!
We firmly believe that a handheld milk frother is a must-have for anyone who makes coffee at home — especially if that coffee is being mixed with nut milk (it can seriously make the non-dairy stuff taste just like the real deal). This one comes from one of the best names in the biz.
Olive oil, we will always love you, but this hazelnut oil says, I think you're really special. It's great for drizzling over cooked pasta (no offense, buttery noodles), finishing soups, and sprucing up your morning bowl of yogurt — but our favorite way to use it is in a simple vinaigrette. Pair this bottle with your go-to recipe for a holiday gift win.
Know a cook who's also a minimalist? Pretty much anything from the YAMAKAZI home line is for her, but we're particularly feeling this smart storage idea. Because honestly, have you figured out a good storage solution for your lids and ladles while you're cooking? No, we didn't think so.
If you have a honey-loving friend, Manuka honey is the creme de la creme. It's the Michelle Obama of honeys. And while it may or may not banish the flu away (or do any of the other myriad things fans claim it does), it's a delicious addition to tea, so tasty that we've been known to eat it by the spoonful. It makes a great face mask, too!
Good things come in small packages — like garlic! And this garlic keeper! The tiny pot keeps cloves safe in a cool, dark place so they won't sprout or lose flavor. Get this for your garlic-loving friend. You know who we're talking about.
Even the most fervent keeper of their cast iron pan needs a little help every once in a while. Enter: this kit, which includes all the things you need to make sure your go-to pan is always in tip-top shape like a scrub brush, food scraper, hot handle holder, and seasoning spray. Skeptical of the seasoning spray? So were we, but we tried it and now we're completely sold.
Bigger isn't always better, but in the case of ice cubes it is. If your brother has been using regular-sized ice cubes for his cocktails, tell him to prepare to be forever loyal to these silicone trays, which make six 2-inch cubes — perfect for a round of Old Fashioneds or for fancy-ing up holiday punch.
Many cooks have a piece of Le Creuset cookware; not many have this gold knob. It's a step (at least!) above the standard knob, for those who are just as interested in using their Dutch oven as they are in showing it off.
Butter has been slowly but steadily making a comeback, and we couldn't be happier. Butter is good in and on just about everything, including coffee (trust us). But what's even better than butter? Spreadable, room-temperature butter that goes on your morning toast oh-so easily. Give that gift of the perfect piece of buttered toast with this French butter keeper, which keeps butter fresh without refrigeration for up to a month (although we doubt the butter will last that long).
You know that friend who is always cooking up a storm on the weekends? From Sunday gravy and braised meats to mile-high pies and layer cakes, she does it all — and her Insta feed is definitely one to follow. Well, chances are she could use a multi-clock timer that will survive marathon kitchen sessions without running out of juice.
You've heard of microbrew beers, but microbrew soy sauce? Yep, it's a thing. Made in Louisville, Kentucky, this one is made with that mineral-rich Kentucky water and aged in Woodford Reserve bourbon barrels. This stuff is so good, we literally have a friend who carries it around in her purse at all times!
Here's the thing about good cheese: It wants to be stored the right way, not wrapped in a scrap of aluminum foil and stuffed in the back of the dairy drawer until someone discovers the moldy remnants. These storage bags allow triple cream or aged Gouda to breathe, while keeping out moisture. Plus there's space to write the kind of cheese and the date, so your friend won't have to rely on the sniff test.
Girls just wanna have cool flasks, too, and this one definitely fits the bill. It has a no-spill cap and holds five ounces. Bonus points if you fill it with your gal's favorite spirit.
Give the gift of green with this set of reusable food huggers. They're literally green (and yellow!), but also good for the environment as they help preserve your leftover fruits and veggies and stand in for plastic wrap or aluminum foil. Oh, and that Tupperware container with the missing lid? It just found its mate.
Kitchn supports our readers with carefully chosen product recommendations to improve life at home. You support us through our independently chosen links, many of which earn us a commission.