Here's How 9 of Our Favorite Celebrities Did Christmas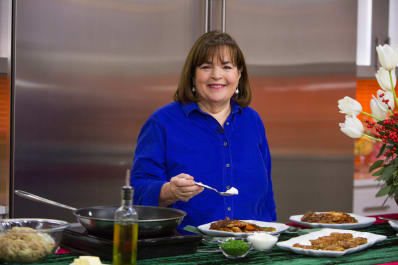 (Image credit: NBCUniversal/Getty Images)
The holidays provide a chance to relax a bit, spend time with loved ones, and eat a ton of good food. The world's celebrities certainly enjoyed themselves, whether they baked cookies at home, like Blake Lively; had a whole menu brought in, like Mindy Kaling; or hopped on a plane to Paris to celebrate with oysters, like Ina Garten. Many posted photos of their celebrity Christmas celebrations so we could share in the festivities. Here are nine of our favorites celebrity Christmases.
Chrissy Teigen
It's always a good day when Chrissy Teigen's daughter wears a giant sweater and gets to hang outside. I hope Luna is still enjoying her food truck!
Mindy Kaling
Mindy Kaling's holiday dinner is Norah Ephron-themed. I'm very curious about those carrots on the menu. And that cocktail! What could be in that cocktail?
Ina Garten
Ina Garten was in Paris over Christmas, and these boxes are full of oysters.
Martha Stewart
Martha Stewart celebrated with white truffle pasta, which is a very good thing.
Ree Drummond
Ree Drummond's kids are pretty excited for Christmas. She's also gearing up to host people at the lodge if you're looking for something to do next week. Road trip?
Blake Lively
Ryan Reynolds tried to make his wife, Blake Lively, Christmas cookies. They might not look the prettiest, but I bet they taste good? Maybe?
Nigella Lawson
Nigella Lawson celebrated with salted caramel liquorice balls in her favorite color — copper. They just might be too pretty to eat!
Alton Brown
Alton Brown got some sweet socks for Christmas from his daughter. I think my favorite is the "death before decaf" socks. Wise words.
Joanna Gaines
Everyone's favorite fixer upper celebrated Christmas by making Bundt cakes for her family. One is lemon (for her family) and one is chocolate (for her).
What did you do for Christmas? Let us know!