Is Celebrity Alcohol the New Perfume?
We independently select these products—if you buy from one of our links, we may earn a commission. All prices were accurate at the time of publishing.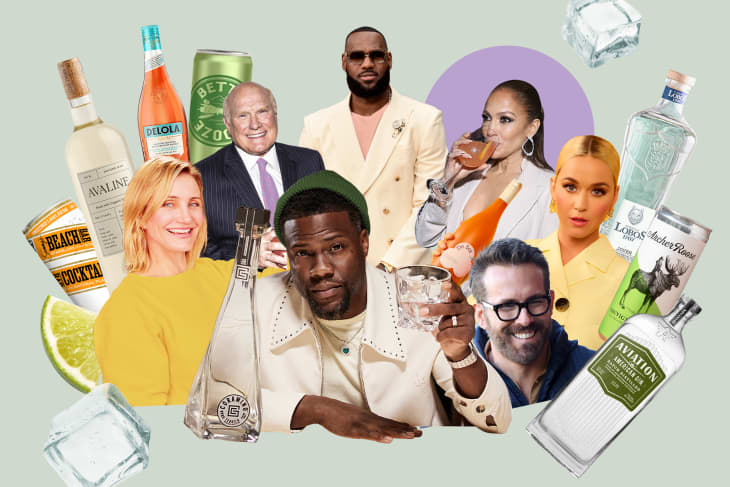 The future as we know it is here: Walking down the liquor aisle to grab your favorite bottle of rosé is now impossible to do without passing at least a dozen celebrity-backed alcohols along the way (spotting them all is a fun drinking game in itself, too).

Seemingly overnight, spirits brands have rapidly become the hot new accessory for famous people (and their investment portfolios) in our current era, mimicking the perfume craze of celebrities in the '90s and '00s. And while George Clooney might have spearheaded this boozy evolution when he sold his Casamigos tequila line for a whopping $1 billion in 2017, that was clearly just the beginning. You'll find all kinds of celeb beverages at your favorite liquor store today: canned cocktails by RuPaul, vodka by Kate Hudson, tequila by Adam Levine, cognac by Jay-Z, and rum by Bruno Mars. 
Many celebrity-owned brands go on to become bestsellers in their respective categories (vodka, tequila), and retailers are taking note. Liz Paquette, head of consumer insights at Drizly, an online alcohol delivery service, says that 54% of retailers have cited "celebrity owned" as a type of product they intentionally stock, coming in second after locally made products at 64%.
The celebrity liquor world is itself a bit of a funhouse: It's hard to know exactly how involved these stars really are. Some are full-on founders — like Katy Perry, Bryan Cranston and Aaron Paul, and Sammy Hagar — while others are investors and partners of existing brands. Take Archer Roose: Founder and CEO, Marian Leitner-Waldman, added Elizabeth Banks as a partner, major investor, and CCO five years after its initial launch. "In 2020 when the pandemic hit, we realized we needed to take our marketing to the next level and connect with consumers in a fresh way," says Leitener-Waldman, who noted that her team had always thought Banks would be the perfect person to rep their brand; canned wine is not something that should take itself too seriously, and neither does Banks. It worked: Archer Roose is now offered on JetBlue flights, so you can sip on a chilled Italian red from Friuli, Italy, on your way from Phoenix to Milwaukee.

The only celebrity who spoke to me personally for this story was Sammy Hagar, who is incredibly involved in the day-to-day of his tequila and rum brands, Santo and Sammy's Beach Bar Rum. (He also does an amazing Guy Fieri impression, BTW.) Like Hagar's brands, some would rather the spirit speak for itself, without the face of their celebrity backer front and center — especially since the former Van Halen frontman has been in the spirits business since 1988. Still, it's important to Hagar that the spirits feel unique to him: "You know, when I'm up there singing, I'm not trying to sing like Mick Jagger," he says. "I love the guy, but I'm not trying to sing like him … that's the difference. If I'm up there trying to sing like Mick Jagger, then I ain't gonna be Sammy Hagar. That's what I feel about my booze."

Regardless of how much star power fuels the marketing of these, they're tapping into a new way of monetizing an experience that goes beyond the stage, screen, or court. A fun drink can seamlessly transition our day from work to play. If you already enjoy consuming a celebrity's work, they also get to be invited into your home or night out with friends or romantic date; it's an intimate endorsement.
Much like those perfume brands of the '90s and '00s (where you could smell like a Spice Girl, Britney Spears, or Hilary Duff, depending on the day and your mood), celebrity alcohol brands allow for a new kind of literal taste-making, too. Celebrities understand how to tap into our own aspirational selves, whether it be how we want to smell or what we want to sip. (Wildly, Paris Hilton, Bon Jovi, J.Lo, and Diddy actually have been behind both perfumes and alcohol!) The identity we ascribe to something as personal as scent absolutely applies to the drinks we order or buy for our bar cart. 
As someone who has worked all over the drinks trade as a bartender, drinks writer, and just all-around drink geek, I couldn't wait to sip my way through celeb alcohols. First up, there are all the tequilas (hi, Lebron James, Kevin Hart, and the besties of Breaking Bad!) and whiskeys (Terry Bradshaw's! Conor Mcgregor's! A$AP Rocky's!). Then there are the canned cocktails by Sammy Hagar and Blake Lively, J.Lo's bottled spritzes, wines by Angelina Jolie and Brad Pitt. Oh, and don't forget Katy Perry's adaptogenic canned mocktails. (And that's just a shortlist.)
One thing rang true: Just because they're celebrity brands doesn't mean these beverages lack depth. Far from it, actually — many were quite tasty. The best-tasting ones felt like there was a reason for their existence. They tapped into a niche. Others could have used a little more time in the test lab; the worst of the bunch were the bottles that seemed like vanity projects, versus creative endeavors to bring something new and innovative to the beverage world. 
If we are approaching peak celebrity alcohol, like anything, the cream will rise to the top. "I don't have many concerns with celebrity brands saturating the market," says Antonio Morales, beverage director and general manager of Palo Santo, a supper club and rooftop bar that serves Contraluz Mezcal (Colombian singer Maluma is a partner). "The market is filled with something for everyone," he says. And some businesses stock celebrity alcohols simply because they're straight-up good, regardless of the name behind them. "A good product is what I look for first and foremost," says Nicholas Hassiotis, co-owner & operating partner of Atlanta-based Foundation Social Eatery, who stocks Ryan Reynolds' popular Aviation Gin. 
Familiar famous faces can also help more obscure products feel approachable and intriguing: If a pop star helps you learn what kind of tequila you like, I see nothing wrong with that.

After all my drinking, I found some clear winners I'll make space for in my home bar. The smoothness of Aaron Paul and Bryan Cranston's Dos Hombres Mezcal makes any mixer sparkle (I like it with San Pellegrino Limonata and splash of soda water). I'd use Terry Bradshaw's Bradshaw Bourbon in a bright and light blackberry bourbon smash, and I'd sip on a Katy Perry De Soi mocktail nightcap when I just want something complex and delicious to drink. My celebrity drink cup overflows, and I'm totally, very much, absolutely okay with it. 
Do you have a favorite celeb alcohol you buy? Tell us about it in the comments.