Have You Noticed? Cauliflower Has Colonized Your Freezer.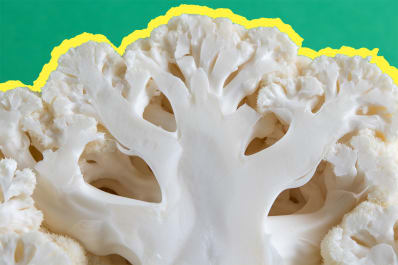 (Image credit: Roberto Machado Noa/Getty Images)
In the last few years cauliflower has undergone a renaissance. No longer found solely in floret form, this trendy crucifer has been riced, mashed, and made into gnocchi. And now it's taking over your freezer aisle in forms that may surprise you.
Wait, what? The freezer aisle is chock-full of cauliflower, the hottest veg trend? You bet. In case you hadn't noticed, the grocery store freezer aisle has also had its own makeover in the last couple years, and we're seeing more and more trend-forward convenience foods — including your favorite cauliflower dishes. But why is cauli suddenly such a darling among frozen food brands?
"Swapping out carbs is the biggest driver," says Jordan Greenberg, vice president and general manager at Green Giant. "People want to swap out the white carbs in side dishes and bring in more vegetables."
And it turns out cauliflower's mild flavor and pale color make it a great stand-in for the usual starches like rice and potatoes. "It has so much versatility," says Greenberg. "It's a blank canvas and very complementary to other flavors and vegetables."
Three years ago, Green Giant saw a trend among home cooks ricing their own cauliflower to use instead of rice or potatoes, so they quickly brought frozen riced cauliflower (plain and flavored) to the market. It was such a hit, they expanded the lineup into mashes and tots. And that's not the end — craving some Buffalo-sauced something or other? Check the cauliflower.
If you're ready to tuck a few more servings of vegetables into your meals, here are just a few of the new cauliflower-based products I spotted in my local grocery store freezers.
Riced Cauliflower
These tiny bits of cauliflower make a great stand-in for rice, whether you're making pilaf or stuffing peppers. You can even add milk and mash it. Many brands offer pure cauliflower versions as well as some mixed with other riced vegetables like broccoli, sweet potatoes, and mushrooms, or flavored with ingredients like cheddar, roasted garlic, and herbs. Birds Eye even offers a short-cut meal of cauliflower fried rice with chicken.
Brands include: Green Giant, Birds Eye, Alexia, Cascadian Farm, and Boulder Canyon, as well as store brands like Trader Joe's, Whole Foods' 365, and Kroger.
Mashed Cauliflower
Here all the mashing is done for you! Just microwave in the bag or tray and serve. The various brands all offer a version — some plain, some blended with other vegetables like broccoli, and some in flavors like Roasted Garlic, Sour Cream and Chive (both from Birds Eye), Cheddar and Bacon, Garlic and Herb (both from Green Giant).
Brands include: Green Giant, Birds Eye, and Alexia
Cauliflower Risotto
Think: riced cauliflower, but richer. So far Alexia owns this category with its Parmesan version blended with cream. Green Giant's "risotto medley" is just riced veggies, with no cream or flavorings.
Cauliflower Tots
Just like tater tots, but these are made with a cruciferous vegetable instead of a starch. In addition to plain cauliflower and one blended with sweet potato, Green Giant offers several other kinds of veggie tots (even corn). Birds Eye is the other cauliflower tot maker we found, but theirs are blended with potatoes.
Brands include: Green Giant, Birds Eye
Cauliflower Fries
So far, only Birds Eye has elongated its tots into fries, but again the vegetable doesn't stand alone; it's blended with potatoes.
Brands include: Birds Eye
Cauliflower Pizza Crust
These alternative crusts go beyond gluten-free into veggie-full territory. Trader Joe's debuted its frozen cauliflower pizza crust last summer, joining brands like Caulipower (which sells them plain or topped) and Cali'flour (plain or flavored). And of course, Costco also debuted their own cauliflower pizza this year.
Brands include: Trader Joe's, Costco, Caulipower, Cali'flour
And this is just the most common range of cauliflower stars you'll find. There are also the buffalo cauliflower bites from Birdseye, and extra-zingy cauliflower rice flavors like Cilantro Lime from Hanover that Kitchn's Editor-in-Cheif, Faith Durand, loves for taco night. On and on — if you love it, cauliflower probably has something to say about it. Just check your frozen aisle.
Are you buying any frozen cauliflower products? If so what are your picks?