Catherine's Modern Entertaining Kitchen in Seattle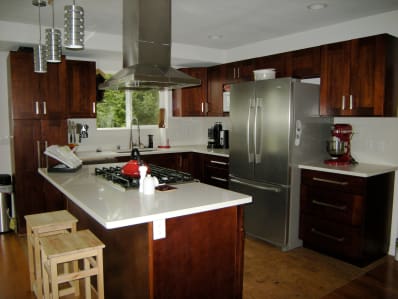 Who cooks here? Catherine and her husband
Location: Seattle, WA
Owned or rented? Owned
Kitchen size: 118 square feet
What challenge have you overcome in your kitchen? We got a really amazing deal on walnut cherry cabinets. We wanted the kitchen to be bright but were afraid the cabinets would make the space look dark and small. We went with white walls, counters and penny tile backsplash to lighten the dark wood. We also made the kitchen part of the living/dining room (no wall between them) to allow for a lot of natural light.
Give Catherine a THUMBS UP if you think this kitchen belongs in the finals!
Thumbs Up Voting is only activated for 48 Hours — so don't delay!
What's the story of your kitchen?
We built our house from the ground up so we got to design our kitchen from scratch. We wanted something that was modern, good for entertaining and bright but also something that we'd still like in 30 years. It also had to be something we could afford now.
What is your favorite meal to cook here?
Dinner, especially Sunday dinner.