Catherine's Cilbir (Turkish Poached Eggs over Yogurt) Quick Weeknight Meals Recipe Contest 2009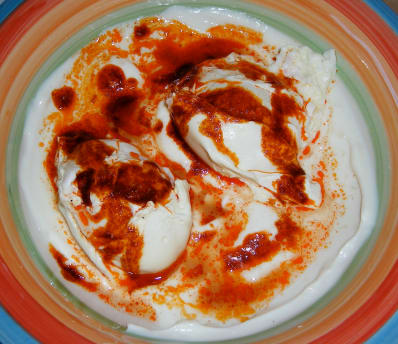 Recipe: Cilbir (Turkish Poached Eggs over Yogurt)
Category: Vegetarian
How long does it take? 20 minutes
Name: Catherine
Why is it a favorite meal? Yogurt sauce and poached eggs are two of my favorite quick dishes. Together... heaven.
Cilbir (Turkish Poached Eggs over Yogurt)
1/2 cup plain yogurt
1 garlic clove, chopped
Salt
Small bunch fresh dill, chopped, or 1 teaspoon dried (optional)
2 eggs
Smoked paprika
Butter (optional)
1. Bring a small saucepan about 1/2 full of water to a boil.
2. While the water boils, whisk together the yogurt and chopped garlic with a pinch of salt and dill if using. Spread the mixture in the bottom of a shallow bowl for serving. I like to place the bowl of yogurt on an unused burner of the stove near the boiling water to help it come to room temperature faster (this is a quick weeknight meal, after all!).
3. Crack one egg into a small, shallow bowl or ramekin.
4. When the water boils, turn the heat as low as possible so the surface of the water barely moves. Using the wrong end of a wooden spoon, create a whirlpool in the water and carefully slip the eggs (one at a time) into the swirling water by gently lowering the bowl or ramekin into the center. Once the eggs are in the pot, again use the wrong end of the spoon to swirl around the outside if the whites are spreading out too much, then let the eggs sit still as they poach for 3-4 minutes.
5. When the eggs are poached, carefully lift them out of the water with a slotted spoon. Drain them for a few seconds, and place them atop the yogurt in the shallow bowl.
6. Sprinkle with smoked paprika. For a richer dish, heat 1 tablespoon of unsalted butter in a skillet over low heat while the eggs poach. When the butter sizzles, add 1 teaspoon of smoked paprika and stir as it cooks for approximately 30 seconds. Pour this over the eggs.
Serve with pita bread, baguette, or any other bread good for soaking up sauce.
This recipe serves one, but can easily be scaled up to serve more.
Thanks Catherine, and good luck! Readers, give Catherine a thumbs up if you like this recipe!