Cast Iron Cookware: Enameled or Bare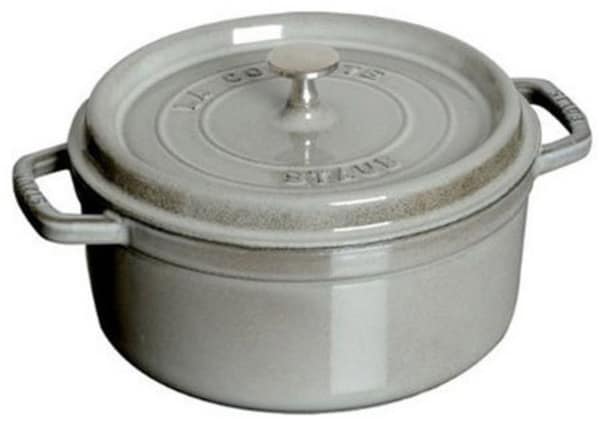 Shopping Guide To: Cast iron skillets, kettles, and enamel Dutch ovens
Marketplace Link: Cookware & Tools
This month, we've been focusing on basic kitchen skills and tools, including cast iron. It's one of a cook's most durable tools, and cast iron pans or Dutch ovens can be passed down through generations. There are two basic varieties: bare, which needs to be seasoned, and enamel-coated, which does not. Whether you're looking for a vintage Le Creuset Dutch oven or a basic cast iron frying pan, we're offering some shopping recommendations.
Lodge (Various Stores/Online): Lodge has been making cast iron cookware for over 100 years, and their products are solid, sturdy, and made to last. They can be used on high heat or low, on the stove top, in the oven, or over the campfire, all without skipping a beat. The entire line can be ordered online through their website or purchased at places like Wal-mart, Target, and camping supply stores.
Lehman's Non-Electric Catalog (Online): Since 1955, this catalog has been selling non-electric tools to "serve the local Amish and others without electricity." They have cast-iron kettles, oversized frying pans, and Lodge cookware.
Cookin' San Francisco (SF): This vintage shop specializes in used French cookware, and they have plenty of bare and enameled cast iron. Many people go there to search for Le Creuset and other brands of enameled cast iron in colors that are no longer produced. They don't have a website; you have to shop in person to buy.
Bridge Kitchenware (New York/Online): They sell heavy-duty French cookware, and they're one of the few places (besides Lodge) we were able to find cast iron cornstick pans and French grills.
Broadway Panhandler (New York/Online): The Panhandler is a great resource for chefs, and we still think it's one of the best kitchen supply stores in town. They stock a big selection of frying pans, griddles, and cast iron kettles.
Cooking.com (Online): This is one of the oldest and hardiest online cooking shops—they got started before the dot com boom and they held on throughout the crash and are now still thriving with a wide selection of cookware, kitchen appliances, tableware and other accessories. They carry all of the big brands, including Staub, Calphalon, Lodge, and Le Creuset.
Amazon.com (Online): This is a definite megastore, not a mom and pop shop in any sense of the word, but they do have a huge selection of cookware, including almost all the brands mentioned in this post.
Macy's Cellar (Various Locations/Online): Macy's Cellar is a one-stop shop for housewares if you need to kill a lot of birds with one errand. And, as a salesperson once told us, "Stuff here is always on sale." It can be crazy and overcrowded (especially during the holidays) but they carry a lot of brands that are worth a look, like Martha Stewart's Le Creuset lookalike Dutch ovens.
Foster's Homeware (Philadelphia/Online): This Philadelphia store carries many of the same brands of cast iron cookware mentioned above, but they also have higher end lines like Finnish iittala cookware.
Crate & Barrel (Various Locations/Online): Gordon and Carole Segal started C&B in Chicago in the 1960s, and today it's a huge source for cookware and wedding registries. They carry a good selection of the basics: Lodge, Le Creuset, and Calphalon are always on the shelves.
RELATED POSTS
• How to Season a Cast Iron Skillet
• How to Clean a Cast Iron Skillet
• Strong and Sturdy: What Makes Cast Iron So Great?
Got a great source for cast iron cookware or have first-hand experience with the stores listed above? Share your insight in the comments.
Kitchn supports our readers with carefully chosen product recommendations to improve life at home. You support us through our independently chosen links, many of which earn us a commission.