Caramel Apple Is Coming for Pumpkin Spice
We
independently
select these products—if you buy from one of our links, we may earn a commission. All prices were accurate at the time of publishing.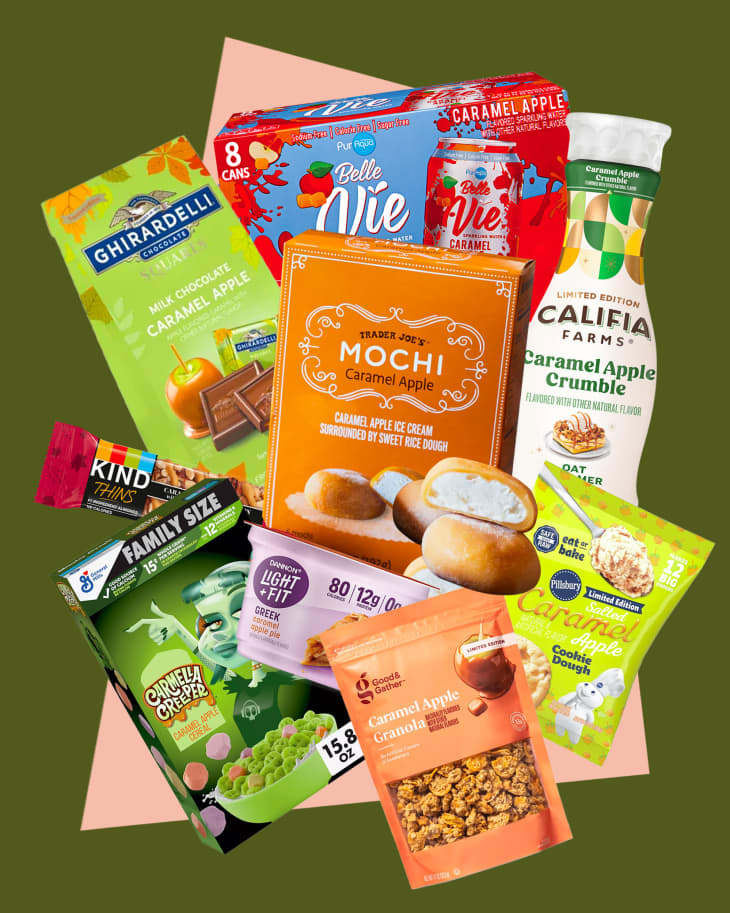 I'm not here to knock the marriage of pumpkin with spice, whether it's in ice cream, oatmeal, a latte, or even trash bags. There's no denying the flavor has successfully infiltrated nearly every aisle of the grocery store — and for good reason. But recently, I've been wondering, have we gone overboard with the gourd? And, more importantly, is another flavor combo with all the fall feels poised to take the leafy crown?
Judging by the number of caramel-apple-flavored items creeping up in new-to-me and unexpected places, I'd say so.  
And it isn't just manufacturers vying for a piece of the (caramel-apple) pie. Grocery retailers and even restaurants are announcing more new and seasonal products of their own. 
Late last month, Aldi leaked info on a new caramel-apple-flavored sparkling water from its beloved PurAqua Belle Vie line (as well as its Barissimo Caramel Apple Coffee Cups, a returning fave). Similarly, you'll find newer snacks — like trail mix and granola — from Favorite Day and Good & Gather, Target's store brands, among the dozens of caramel-apple items on its shelves right now. (Somewhat surprisingly, Walmart currently only has one store-brand item, a four-pack of frozen caramel-apple cakes topped with crumble.) Caramel-apple staples from major players like Pillsbury, Trader Joe's, Peet's, Werther's, and more have also re-entered the chat. 
Apple flavors are not new and neither is caramel. But, together, the combination is simultaneously tapping into a freshness and familiarity that shoppers are looking for.
"Next to pumpkin spice, caramel apple is one of the most popular seasonal flavors, bringing up memories of fall leaves, apple picking, hay rides, pies, cider, and more," says Laurentia Romaniuk, a trends expert at Instacart.
Melanie Bartelme, an associate director specializing in the food and drink industry at Mintel, a marketing research firm, points to shoppers' continual search for something new and brands' constant tinkering with what's already popular.
"Companies realize that they can take this familiarity … and use it to build out new flavor experiences that are still low-risk enough for consumers to try," says adds. "We've seen this play out already with salted caramel."
I'm not ready to declare that caramel apple ranks as high on palates as salted caramel, but it's definitely a refreshing detour from pumpkin-spice overload.
Have you spotted any new caramel-apple groceries on shelves? Tell us about it in the comments below.