Can I Save My Enameled Dutch Oven?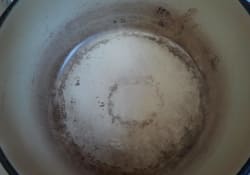 (Image credit: Reader Kathleen)
Q: I store my enameled cast iron Dutch oven on the back burner of my stove since I have no other place for it. I also keep my tea kettle on the opposite back burner on the stove.
Normally this isn't a problem except for this morning the tea kettle was on the front burner on the same side as the Dutch oven and when I went to turn on the tea kettle, in my half asleep state I turned on the wrong burner on high.
(Image credit: Reader Kathleen)
A few minutes later, I went to check to see what was taking the tea kettle so long, and to my horror, I discovered that I had turned on the wrong burner and burned the inside of the Dutch oven and some of the enamel on the bottom was stuck to the burner and came off the pot.
I didn't notice see any enamel flaking off on the inside but it's blackened inside. Can I save my pot? Is it still ok to use with some of the enamel chipped off the bottom? How do I clean the inside of the pot?
Sent by Kathleen
Editor: We would recommend contacting the manufacturer of your Dutch oven. Even if the damage was not covered under their warranty, sometimes these manufacturers have generous replacement or repair policies.
Readers, do you have any advice on what to do?