Can I Re-Freeze Unused Phyllo Dough?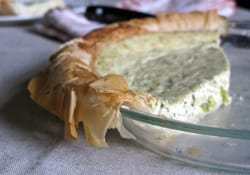 Q:
I have a recipe that asks for four sheets of phyllo dough. However the brand I buy is frozen, and in order to get four sheets, I have to let it all thaw. Can I put it back in the freezer, or do I now have to use it up? Is there a way to just get a few sheets out of the package? Thanks!
Sent by Suzanne
Editor: Since sheets of phyllo are fairly dry, I imagine that they would re-freeze well without sticking to each other or becoming gummy. I've never tried it myself, though!
Readers, any advice on re-freezing phyllo?
Related: Techniques: How to Work with Phyllo Dough
(Image: Phyllo Pie with Ricotta and Pesto/Elizabeth Passarella)