5 Busy Moms Share Their Nighttime Routines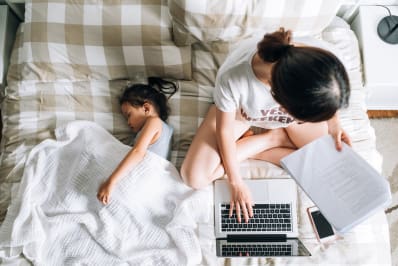 (Image credit: MaaHoo Studio/Stocksy)
I have a confession: I never feel 100% absorbed in my self-care rituals during the day, even when my children are apart from me. As a busy working mother, I'm always managing something as mom. And while I've taken great strides to make time for myself during the day — to exercise, have coffee with friends, and allow myself open-ended space to be creative — moments when I can truly lose myself without worry about where I or my sons need to be next are fleeting. So I've started taking time for myself every night, too.
Today I'm talking a little bit about how I've been changing up my nighttime routine, and I've asked four other busy moms to share as well. Here's what we all have to say.
5 Busy Moms Share Their Nighttime Routines
I'm going to start with my personal nighttime routine. I used to find it hard not to fall asleep or zone out in front of the TV or on my phone once the kids were in bed — especially after I also spent some quality time with my husband. But prioritizing a personal nighttime ritual has become key to my sanity, and helps restores some energy too.
One of the ways that I've made it possible is by getting my kids to bed a little earlier. They don't necessarily have to go to sleep, but just knowing that they are washed up, tucked in, and quietly relaxing in bed helps me turn off "mommy mode." I tell myself that I'm done taking care of others and shift all of my focus onto taking care of myself, even if just for 20 minutes.
These days, my nighttime ritual consists of foam rolling and then whisking up a cup of masala milk. Yes, seriously. I recently started working out consistently again, and this time I'm taking good care of my sore muscles.
Rolling out my legs, back, and hard-working glutes helps ensure that I can keep moving without pain the day after a hard workout — or, you know, without too much whining. Because I like to be a good role model for my kids.
And the masala milk, which I make with plant-based milk these days (usually almond), feels like dessert thanks to those chopped nuts. Sometimes I add freshly grated ginger, too, which is great for nighttime digestion.
2. Jocelyn Delk Adams, Founder and Editor of Grandbaby Cakes
As soon as I met Jocelyn, I was struck by her warmth and overflowing energy. I believed that both would help her rise to the challenge of those first exhausting months of motherhood, in which she now finds herself, especially as she continued nurturing her growing business as well.
Jocelyn: With a newborn, chill life can be quite difficult to achieve. When I get my Baby Cakes to sleep (we currently have her on a sleep training schedule where she goes down after a dream feed at 10 p.m.), I finally unwind with an Izze. No drinking for me since I'm still nursing! I also bake three of my homemade chocolate chip cookies. I froze an entire batch of dough in ready-to-bake balls right before I gave birth. It was the smartest decision I ever made.
Following my cookie binge reward for making it through an exhausting day, I take a bath with my baby monitor right by the tub. A girl has to do what a girl has to do.
Like so many others, I fell in love with Jill through her blog, Baby Rabies. So after years of following along, I was in awe when Jill announced that she, her husband, and four children — including a new infant! — were trading their home in Texas for an RV. Now that Jill lives on the road, I was curious about her nighttime routine — does it include any alone time?
Jill: Living with four kids and my husband in an RV leaves very little personal space and personal time. My self-care rituals have had to evolve to adapt to our new space, and they are increasingly important because we all feed off of each other's energy in these small spaces. If momma's not happy, literally nobody else is.
One of the biggest adjustments has been not having much time after the kids go to bed. They go to sleep later now that we're on the road compared to when they were attending traditional school. Many nights I'll excuse myself to our bedroom (it has a door that locks, which feels like the ultimate in RV luxury sometimes) with a drink and my laptop while the kids are still in the living area winding down for the night.
Also, when the Wi-Fi connection allows it, my husband and I have made a point of watching our favorite shows together, just like we always have (The Walking Dead is our current must-see TV). This means staying up much later than we used to, but we take the loss of sleep in exchange for kid-free silence and whatever local beer or wine we've picked up at our destination that week.
4. Aarti Sequeira, Chef and TV Personality
If you've ever watched Aarti on television or, even better if you ask me, on her Instagram Stories, it's hard not to fall in love with her. Having met her, I can assure you that Aarti is just as warm, funny, and genuine in person. She exudes joy and realness, so I knew that I'd get an honest answer when I asked the multi-tasking working mom of two what she does to wind down after her girls have gone to bed.
Aarti: I'll be honest that my nighttime ritual consists of WORK. My girls are 2 and 4, so I'm still full-time mum'ing all day long. The older one only goes to preschool three times a week, for just a few hours each day, so those two hours between their bedtime and mine is precious quiet time when I can be productive.
But on Friday nights, I do try to do something for my sanity, which has recently turned into a full six-step skincare ritual. I am utterly obsessed with May Lindstrom. All of her products are made of natural ingredients and scented with pure essential oils. Every step feels like a reconnection to nature, which to me is like a reconnection to God, and my skin responds immediately.
Though I keep this luxurious ritual for the end of the week only, I do treat myself to a nightly tea or water with a dose of Vital Proteins Beauty Collagen in Lavender Lemon to wind down and help keep my skin healthy and hydrated all week long between each Friday night regimen.
5. Christine Koh, Speaker, Editor, Designer, Entrepreneur Extraordinaire
Christine's bio calls her an internet unicorn, but I think that sells her short. She's just a unicorn, internet or not: beautiful, magical, wise, and always up to something good. She's the founder and editor of Boston Mamas, creative director of Women Online, co-host of the Edit Your Life podcast, and designer/co-owner of Brave New World Designs. She's also a hands-on mom, politically active citizen, and one serious baker.
With so much going on, I wanted to know how Christine cleared her head at night — and if buttercream was involved. Surprisingly, it isn't. But good hygiene is!
Christine: I'm a big believer in good skin scare and oral hygiene, but I get it, at the end of a busy day it's tempting to just fall into bed! My favorite solution? I do my evening skin care and brush/floss/fluoride routine (seriously, I have cavity-prone teeth and have not gotten a single cavity since I started doing all three every night!) while my kids are getting ready for bed.
I help my 7-year-old floss, but otherwise my kids do everything else. This is a triple win because it helps me take care of myself, encourages my kids' autonomy, and also avoids late-night snack temptation (because once I've done my evening oral hygiene routine I don't want to repeat it)!
After the kids are in bed, I have one last glass of water (I'm also a big believer in hydration) and settle in for time with my husband; we chat, swap foot rubs, maybe watch a show together, and then curl up with books.
Do you have a special nighttime routine?
More posts in Nighttime Rituals
You are on the first post of the series.
You are on the last post of the series.