We're Totally In Awe of Bulthaup's Custom Kitchen Storage & Organizers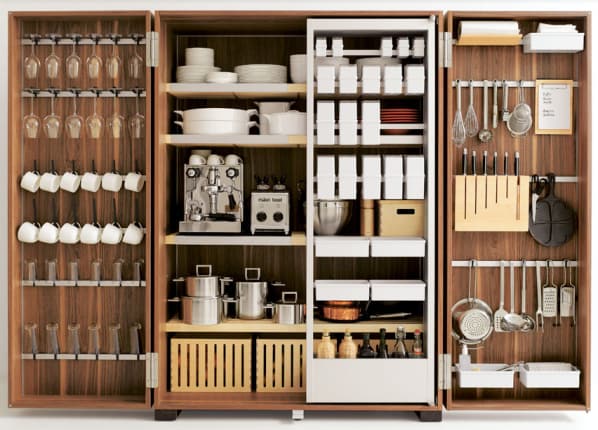 Have you heard of Bulthaup? This high-end German kitchen manufacturer creates some of the most beautiful kitchens we've seen, with custom storage solutions and drawer organizers you have to see to believe. Here's a sneak peek at some of the designs that make this company so dreamy:
Bulthaup advertises that their interior organizers are designed to "fulfill every desire." The basic organizing structure is what they call a "functional prism," designed to fit any number of dividers which you can adapt to your particular needs. All their other accessories, including utensil holders, knife blocks, boxes, trays, and jars, also fit into the prism structure. You can mix, match, and rearrange to your heart's content! As they say on their website:
Bulthaup's new system of interior elements is simple yet versatile. The ergonomic design of the prisms ensures items are easy to access. And the sliding nature of the dividers and accessories adds a playful touch. The prism structure provides a seamless, attractive look, almost like a collage - no matter how the dividers and accessories are arranged. You may even find that tidying away, rearranging and redesigning the pull-outs becomes a new passion - anything is possible.
It makes me giddy to see a place for everything and everything in its place in these photos. It's a delight with a price tag, of course. I can see that price tag being justified as an especially good investment if you have a very small urban kitchen, where every inch of space has to count.
You can find Bulthaup showrooms in many major cities. (See a list of US cities here.) If you have any experience with Bulthaup, do share your thoughts below! Have you ever purchased one of their kitchen pieces, and was it worth it?