Build Your Own Menorah Out of Mini Bagels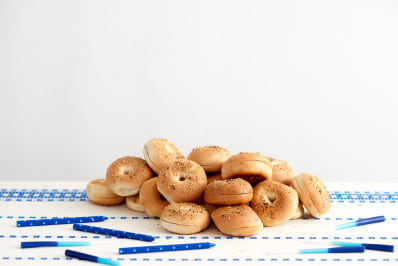 (Image credit: Kitchn)
Not to generalize or anything, but we Jews love us some bagels. We typically eat them on one of the holiest days of the year. We eat them with just a schmear of cream cheese or piled high with lox, onions, capers, and more. So it's no surprise that we're starting to see bagel-themed Hanukkah menorahs all around the country.
Last year, just for fun, the Chabad in Bethesda, Maryland, built a 10-foot menorah out of 400 assorted bagels from Goldberg's New York Bagels.
And there's even a $200-menorah you can buy that's "inspired by our favorite Jewish culinary experience, the bagel."
A cheaper option that will actually fit on your table? This DIY menorah made out of mini bagels from the grocery store.
To make it, you just need 10 mini bagels and a box of Hanukkah candles. (One bag of Thomas' Mini Presliced Bagels will do the trick.) We used all-purpose glue to add some everything seasoning because we couldn't find mini everything bagels and everything bagels are the best.
You'll need to arrange four bagels side by side, and then a stack of two (to become the shamash, which you use to light the other candles), and then four more bagels. The bagels aren't perfectly round, so you'll have to play around with them to get them in the best order for your menorah. If you want, you can use toothpicks to connect the bagels, but we didn't find it necessary.
Once your menorah is built, add candles to the middle hole of each bagel (they're basically the perfect size!). If you need to stabilize any candles, add some melted wax from another candle to act as glue.
A note on safety: Our candles burned down without catching the bagels on fire, but please, keep a close eye on your menorah and never leave it unattended.
Yes, we technically understand that this is a waste of food, but it's functional, too: As the nights go by, the bagels will help catch the melting wax. And you could even seal the bagels with a clear coat of polyurethane so that you can store them in an airtight container and use them again next year. (My dad made a door wreath out of bagels when I was little; we kept it and used it for years!)
Kitchn supports our readers with carefully chosen product recommendations to improve life at home. You support us through our independently chosen links, many of which earn us a commission.