This Beauty Trend Will Also Make for Better Grilling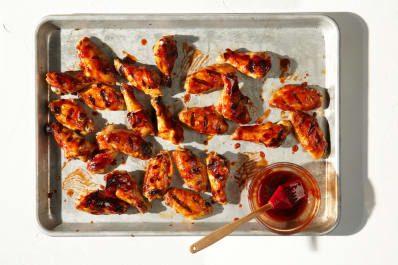 (Image credit: Brie Passano)
Like most of the internet, I've recently fallen in love with the podcast Forever35. Hosts Doree Shafrir and Kate Spencer talk about self-care — everything from facial serums to meal planning — and have a huge Facebook community that exchanges daily updates, questions, and advice about it all.
As a fan and fellow self-care lover, I've put some of their advice into practice in my own home — but most surprisingly at the grill, too. Turns out that one of the best beauty trends is also excellent for taking care of your grill grates!
Dry Brushing Is the Best Way to Clean Your Grill
Dry brushing is a beauty and wellness trend that is reportedly good for everything from glowing skin to better digestion. And, as it sounds, it involves using a soft bristled brush to exfoliate your skin before or after showering. After a recent move to a much drier climate this past year, dry brushing has become one of the few beauty trends I've tried and loved. It didn't change my complexion or cure any tummy troubles, but it did inspire me to give my grill a similar treatment this summer.
Before firing up my grill, I take a grill brush and vigorously exfoliate the grates. Ditto after the grill is off but still hot. This practice has kept me from having to deep clean my grill grates and has given me better grill marks since a clean grill is just as important as a hot grill for better grill marks.
While it might seem silly to equate a beauty trend to a grill maintenance recommendation that many people have been using for years, this mental shift from thinking about grill cleaning as a chore to thinking about it as care has improved my own home grilling. And maybe it can help yours too.
Do you do this before grilling? Any other self-care-at-home tips to share?