5 British Food Mags Every Royal Newlywed Should Know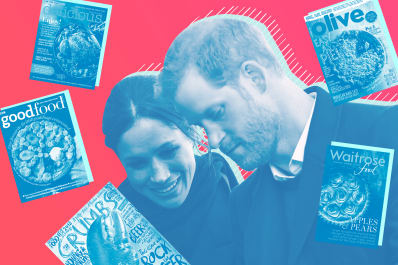 (Image credit: Photo of Meghan Markle and Prince Harry: Getty Images)
Perhaps you've not heard, but it seems there's a royal wedding this weekend. It's rather a big to-do, as Prince Henry Charles Albert David of Wales and Miss Rachel Meghan Markle prepare to walk down the aisle.
As the happy couple gets ready to settle into a lifetime of marital bliss, there's one question we're all undoubtedly dying to know the answer to: What will Harry and Meghan cook for dinner?
In honor — sorry, honour — of their nuptials, we thought we'd highlight five different food magazines from across the pond. (We chose these particular titles because they were the five nominees for Best Food & Drink Magazine for last year's British Society of Magazine Editors awards.)
So here are five great British food magazines worth checking out, including some of our favorite — er, favourite — things about each one.
This British import of a popular Australian food magazine debuted in the U.K. in November 2003. It's packed with gorgeous bright photos and straightforward recipes, with personal essays tossed in. There really are a ton of recipes per issue — just when you think you're getting to the end of the May issue, for example, there's a whole guide to cooking with tinned tomatoes, a travel feature about eating on the cheap in L.A., and a story about the rising food scene in Tallinn, Estonia.
Yankee Equivalent: Food & Wine minus the wine.
Most British Thing About It: Each issue features a Sunday Roast of the Month. (Is there anything cozier or more English than a Sunday roast?) In May, it's a saddle of spring lamb with crushed roasties (which is absolutely what we're calling roast potatoes from now on).
Element We'd Love to See in Other Magazines: The magazine has a Food Writer in Residence, which features a rotating series of chefs, each of whom is featured in multiple issues of the magazine. They've done six writers so far; the most recent, for the past two months, was chef and writer Ravinder Bhogal who focused on Indian-infused recipes like confit salmon with mint and coriander chutney and pomegranate and pistachio chaat.
What Would Harry and Meghan Cook? Everyone knows the story of how Harry proposed to Meghan while they were making roast chicken. Turns out that's one of their favorite dishes. "There is nothing as delicious, or as impressive, as a perfectly roasted chicken," Meghan told Good Housekeeping last year. For that reason, we're sure the royal couple would want to make the cover recipe for the May issue of delicious., a roast chicken with basil mint pistachio pesto.
Launched the very same month as delicious., this magazine has been called "smarter than your average food mag" as well as "informed, authoritative, good-looking, and witty." It's chef-focused and seasonally driven, with a cool factor and a dash of humor.
Yankee Equivalent: Bon Appétit
Most British Thing About It: The May 2018 cover story on "Perfect Puds" — puddings, that is — featuring a delectable butterscotch banoffee tart and a ginger sticky toffee pudding.
Element We'd Love to See in Other Magazines: Pro vs. Punter, in which Olive's restaurant editor and a reader each review the same restaurant to see if they come to similar conclusions about the food.
What Would Harry and Meghan Cook? Well, we're pretty sure what they'd be drinking: A Lyme Bay Pinot Noir 2016. We know Meghan is a fan of wine. She named her now-defunct lifestyle blog The Tig, after her favorite wine, a Tignarello. ("At the end of a long day, there is nothing I enjoy more than a glass of wine," she once told TODAY. "A big, beautiful red.") The latest issue of Olive includes a feature on "British Wines to Get Excited About." This existence of British wine is, to us, breaking news. But apparently, "English wine is enjoying a boom," according to the feature, with 64 percent more bottles released in 2017 than the year before. One of its top picks is the Lyme Bay Pinot. No doubt Meghan would enjoy a glass.
This title highlights the best foods, chefs, farmers, and restaurants in South West England, including Bath, Bristol, and the Cotswolds. It's free — a giveaway at restaurants and bars in the area — but it's got great features, along with a hipness and a design aesthetic that make it feel more like a premium magazine.
Yankee Equivalent: The Edible community of regional food titles
Most British Thing About It: The June 2018 cover is all about gooseberries. As the feature says, "we Brits hold the tart, hairy little goosegog close to our hearts." Quite! There's a yummy-sounding recipe for Gooseberry Crumble.
Element We'd Love to See in Other Magazines: The design. Seriously, we're obsessed. It's fun and fresh and funky. Check out this gallery of recent covers.
What Would Harry and Meghan Cook? We're betting on the sausage and egg bucatini that's featured in the May issue. We know Meghan loves her pasta: "It gets such a bad rap," she told Delish back in 2016. "However, when I'm traveling, I won't miss an opportunity to try great pasta."
Launched in 1989, this mag connects readers with the personalities, recipes, and cooking shows featured on the Good Food television network, including big names like Jamie Oliver, Rachel Allen, and Paul Hollywood. The magazine actually preceded the channel, but today they're intertwined.
Yankee Equivalent: Food Network Magazine
Most British Thing About It: The May issue includes a feature on the new show "Britain's Best Home Cook" with judge Mary Berry (who we absolutely adored on The Great British Bake Off). There's an interview with Barry and her three fellow judges, plus a show-inspired recipe for beetroot soup with cumin-spiced chickpeas.
Element We'd Love to See in Other Magazines: We like the Eat Like a Local section, which in the May issue includes the best food markets in Mallorca, the best spot for a bite in Britain's Lake District, and food-focused spas in Switzerland and Thailand.
What Would Harry and Meghan Cook? As a California native, Meghan is a big fan of fish tacos. As she told the TODAY show in 2012, "Few bites of food make me happier than that." She's said that her favorite version includes grilled fish, but there's a recipe in the May Good Food that we think sounds like the perfect marriage of Baja California cuisine and British cookery: this battered haddock and pesto wrap.
Waitrose is an upmarket English grocery chain; Waitrose Food is a free magazine that highlights ingredients and products available in-store. If that sounds schlocky, it's not: Each issue is filled with straightforward ingredient-focused recipes from contributors like famous British chef Yotem Ottolenghi, and the coverage has a well-traveled twist. The most recent issue includes a weekend menu from Japanese microbiotic chef Shuko Oda, and the April issue profiled several chefs who are bringing food cultures together, including Chinese-Indian-Malaysian-Irish chef Ramael Scully.
There are a couple reasons why we think Harry and Meghan will have a soft-spot for Waitrose Food. For one thing, Pippa Middleton (Harry's sort-of sister-in-law!) has been a contributor in the past. For another, Waitrose is the only grocery store in England with a royal warrant to supply food and spirits to Queen Elizabeth II and to Prince Charles. That means it's sort of the official grocery store of the royal family. Which means Waitrose Food is totally the official food magazine of Harry and Meghan. You can quote us, Waitrose Food.
Yankee Equivalent: Fine Cooking with a dash of Saveur.
Most British Thing About It: My Cup of Tea, a regular interview of actors, musicians, and other celebs that always ends with a question about — you guessed it — how they take their cuppa. (And what they most like to dunk in it!)
Element We'd Love to See in Other Magazines: A Pinch of Salt, which is a monthly essay from a chef or food personality reminiscing about their childhood. In the May issue, London chef Selin Kiazim writes lovingly about her grandmother's traditional cooking in Cyprus. In April, Ken Hom recalled growing up in Chicago's Chinatown in the 1950s.
What Would Harry and Meghan Cook? We don't know what's on the menu for the big wedding day, but Food & Wine is predicting asparagus. That's why we're opting for a lovely roast asparagus bruschetta with lemon-basil aioli for the happy couple.
Here's wishing you a lifetime of food and happiness, Meghan and Harry!