The One Thing I'm Definitely Buying This Amazon Prime Day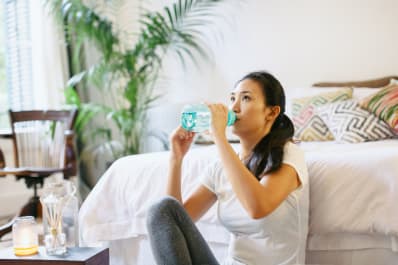 (Image credit: BONNINSTUDIO/Stocksy)
This is going to sound dramatic, but while the rest of my life is an absolute torrent of change, my devotion to the Brita pitcher in my fridge remains a constant. This brand of water purifier has followed me from my dorm room mini fridge, all the way to my NYC apartment (and all other living arrangements in between), and is still kicking — thanks to my various roommates who have remembered to swap out the filters from time to time. The conversation usually goes as follows:
"When was the last time we changed the Brita filter?"
"Wow, I can't remember."
"Hmm, I guess that means we should change it?"
"Yes, good call!"
And then we change it and celebrate the accomplishment by clinking our glasses filled with squeaky-clean water.
While we clearly don't swap out our filter at the recommended frequency of every two months (if you do, you deserve a trophy!), we've learned that it's best to have a spare on hand, so we can change it when the timing *feels* right. Unfortunately, we haven't actually turned that lesson into practice (read: We make a lot of last-minute trips to Bed Bath & Beyond, where Brita filters are usually marked up).
That's why, this Amazon Prime Day, I'm super stoked to stock up on this handy eight-pack of Brita Replacement Water Filters. They're usually $40, but now (through 10 p.m. Eastern Daylight time on July 18) they're marked down to just $28!
I know, I know, Prime Day is all about finding awesome deals on certain appliances you've been lusting over all year (ahem, the Instant Pot), but there are some hidden gem you don't want to overlook. This purchase ensures that the next eight times we remember to change our Brita filter, we will not have to leave the comforts of our apartment, and that just feels game-changing.
Do you have a Brita pitcher? How often do you remember to change the filter?
Kitchn supports our readers with carefully chosen product recommendations to improve life at home. You support us through our independently chosen links, many of which earn us a commission.