Brie's California Cabin in the Woods Kitchen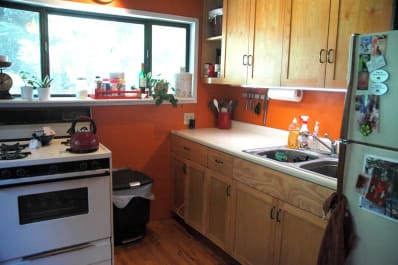 Who cooks here? Brie, her boyfriend, and their zoo of animals.
Location: Felton, CA
Owned or rented? Rented
Kitchen size: 60 square feet
What challenge have you overcome in your kitchen? When we moved in there was no trim on the kitchen window (or front door). Since my boyfriend is handy with a hammer and nail he set to work to create the trim and added a shelf under the window which helped storage immensely.
Give Brie a THUMBS UP if you think this kitchen belongs in the finals!
Thumbs Up Voting is only activated for 48 Hours — so don't delay!
What's the story of your kitchen?
Since our little cabin in the woods is a rental, we've spent many hours trying to make this space ours without any permanent changes. Luckily we have very understanding landlords when it comes to color!
What is your favorite meal to cook here?
Shrimp fajitas!
More posts in Small, Cool Kitchens Contest 2010 presented by The Kitchn - Rent