12-Year-Old Calls 911 Over Bad Salad. Twice.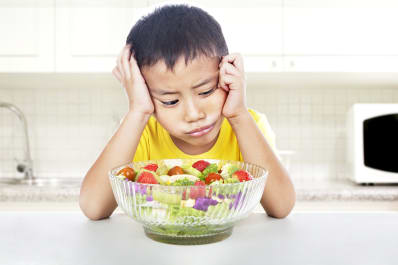 (Image credit: Creativa Images/Shutterstock)
What do you do when you get food you don't like? Do you take a taste and decide to leave it on your plate? Do you force yourself to eat it just to be polite and not wasteful? Insulting the food or throwing a tantrum might seem like the worst possible responses to an unappetizing dish, but it turns out there is something worse you could do. This week a 12-year-old Canadian boy made the news because he actually called 911 twice to report his parents for making a salad he did not like.
According to the Canadian Broadcasting Corporation, the 12-year-old boy called 911 just before 10 p.m. last Tuesday, and when asked what the emergency was, he told the operator that one of his parents had made a salad, and he did not like it.
Apparently he felt the police response was not speedy enough, because he actually called 911 a second time to ask where the officers were, and to reiterate that he really, really did not like the salad.
The Royal Canadian Mounted Police (RCMP) responds to all emergency calls, and they showed up at the boy's door not long after that to have a discussion with him about proper use of the 911 number.
According to Delish, the RCMP in Nova Scotia posted about the 911 call to Facebook.
"While many can relate to the dislike of a salad at times, this raises a more important issue that warrants discussion at all ages," Hutchinson said. "The improper use of 911 is an issue with all age groups and it ties up valuable resources, preventing emergency first responders from dealing with real emergencies."
The boy's parents apparently did not know their son had been calling 911 until the officers arrived, and Royal Canadian Mounted Police officer Dal Hutchinson said they "were not impressed" by their son's shenanigans.
According to CBC, misuse of 911 can result in a fine of $697.50, or $525 in U.S. dollars. In this case the police decided not to issue a fine because the caller was a child, and wanted to use the incident as a teaching moment instead. Hopefully he's learned an important lesson: 911 is for serious emergencies, not salad.
It sounds like more people could probably use teaching moments like this, because according to Hutchinson, the police get calls like this from full-grown adults all the time.
"They've involved everything from someone calling 911 complaining that there wasn't enough donair meat on their donair [kebab]. Another one a person couldn't find their TV remote so they called 911," he said. "We can't make this stuff up."