Bo and Lindsey's Travel-Inspired Kitchen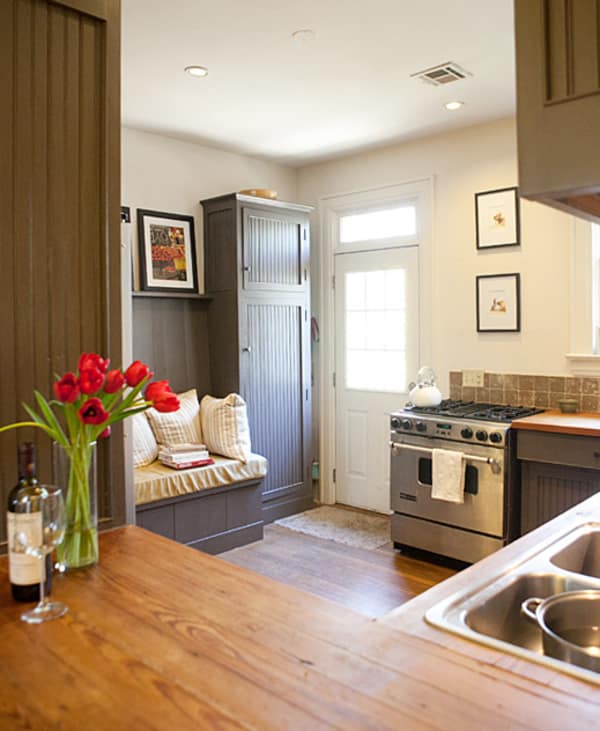 Bo and Lindsey are right at home in the Old Cloverdale historic district of Montgomery, Alabama, but that doesn't mean they don't enjoy seeing the world! Ten years ago Lindsey moved to Montgomery as part of the city's historic preservation team and met lifetime resident Bo at a neighborhood house party. Since then, this travel-loving couple have enjoyed many trips around the world together, always bringing back flavor and recipe ideas they can't wait to try out in their historic home's remodeled kitchen.

Lindsey is a skinny cook. She's of the blessed population that enjoys both cooking and consuming her craft without major consequence. "In my defense, I do walk the dog every morning!" she says. Saturday trips to the local curb market and Sunday trips to the grocery store keep her meal plans on track each week for delicious evening meals, even after full work days. Lots of Jamie Oliver titles line her shelf of cookbooks, but adding her own dash of this and that is what she enjoys most. She's managed to make cooking part of her wind-down routine after work instead of a stressful experience. (A glass or two of wine doesn't hurt the process either!)

Bo is the breakfast guy. His love of pancake shapes is laughable, but he's always ready with a press of great coffee (made with a dash of salt) and a minimum of a pound of bacon for special breakfast occasions. The couple agree that bacon is a must and might be the worst food allergy possible.

The previous homeowners remodeled the space to include modern finishes and ideal function. Bo and Lindsey maintained a neutral palette for the painted custom cabinetry by salvaging the home's original hardwood floors and adding butcher block countertops and a modest, natural stone backsplash.
The number of deep, storage-friendly drawers in this space might very well be the envy of the neighborhood. Wide, shallow drawers for tools and deep, stacked drawers for serving pieces and pots and pans keep the space well-organized. The microwave is cleverly concealed in one of the two up-right cabinet spaces flanking the seating area. The other houses a modest pantry area that causes some angst for the couple due to lack of space. The refrigerator is, however, also nicely concealed from the main living space by the custom cabinetry. An absence of glaring appliances keeps the open kitchen in the center of the house flowing with the rest of the home's interior, while art pieces from Madrid and Barcelona during the couple's tour of Spain add color and character.
10 Questions for Bo and Lindsey (and Their Kitchen)
1. What inspires your kitchen and your cooking?
Our travels. We enjoy recreating our favorite dishes from trips together. In the past years, tours of Spain, Italy and Scottland have given us new ideas as well as new art pieces to enjoy. Lindsey also spent her childhood traveling with her parents as well as living in Japan for one year while her father was stationed in the country for US military service.
2. What is your favorite kitchen tool or element?
I prefer to keep things simple. Good-quality pots, pans and knives that hold up to everyday use are good investments. I believe most gadgets are generally more trouble than they're worth. I do love my KitchenAid mixer since I can use it for pretty much everything.
3. What's the most memorable meal you've ever cooked in this kitchen?
The first Christmas dinner in our home for the entire family. No pressure, huh? I served a roast with a selection of traditional sides.
4. The biggest challenge in your kitchen:
Limited pantry space makes it difficult to locate the items I need quickly sometimes.
5. Is there anything you wish you had done differently?
I enjoy having family and friends nearby while we cook. The banquette allows some seating, but I really wish there was additional space to include a small table for others to join us and be more comfortable.
6. Biggest indulgence or splurge in the kitchen:
Just before the birth of our son, we bought a new, super-quiet dishwasher. There's no guilt over running the machine when needed to keep the kitchen tidy. I loathe dirty dishes sitting in the sink.
7. Is there anything you hope to add or improve in your kitchen?
We really enjoy the space and access to the family room from the kitchen. The function of the space is ideal. Without a complete remodel to include additional space, we love our kitchen just as it is.
8. How would you describe your cooking style?
Adventurous! Our biggest joy is trying new things. I own many recipe books and have tried just about everything in them.
9. Best cooking advice or tip you ever received:
My mom once told me "don't bother with measurements." Cooking to taste and on experience makes the process more enjoyable and relaxing for me.
10. What are you cooking this week?
Spaghetti with arugula, pancetta, and cream, and cheesy meatball soup.
Resources of Note:
Cabinets - custom built, from previous homeowner

Cabinet paint color - from previous homeowner, color matched to Stone Brown with Benjamin Moore ColorCapture for iPhone

Backsplash tile - natural stone, from previous homeowner

Cushion and pillows - custom made

Range - JennAir

Dishwasher and Refrigerator - KitchenAid

Art
* Bull fighters, tobacco-stained art purchased in Madrid
* Food market photographs, taken by homeowner in Madrid
* Canvas of street poster, photograph taken by homeowner in Madrid. Canvas ordered from WHCC
* Prints above sink from 20x200
* Garden, pen and ink of Alabama Shakespeare Festival Garden by Montgomery, Alabama artist Melissa Tubbs
* Chicken painting by M. Daughtry purchased at the Montgomery Museum of Fine Arts
Thank you so much for letting us peek into your kitchen!
Share your own kitchen renovation or improvement!
We're always looking for real kitchens from real cooks.
Show us your kitchen here!
(Images: Erika Tracy)