Waiting Until Black Friday for Your Next Big Kitchen Upgrade? You Don't Have To.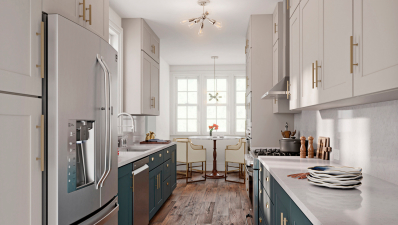 (Image credit: Lowes)
Black Friday is increasingly becoming a thing of the past. With e-tailers taking over the internet on Cyber Monday, there's no real need to wait for the doors to open at your local big-box store the day after Thanksgiving. Lowe's knows this, and they're leading the way by offering their Black Friday deals ALL NOVEMBER LONG. Here's what you should know.
It's the most wonderful season to buy major appliances.
Lowe's puts their best refrigerators, microwaves, and dishwashers on sale this season, offering up to 40 percent off select appliances and even a $600 rebate when you purchase two or more appliances that are each valued over $396. Buying early gives you time to install and take them for a test drive before holiday guests arrive.
Thinking about frying your Thanksgiving turkey? This is your year.
Frying a turkey is surprisingly simple, but it requires some special equipment. Lowe's has propane turkey fryers on sale right now, which feature smart temp control to prevent overheating and allow for hands-free draining. It's the easiest way to win Thanksgiving.
Even the little appliances are on sale.
Most of us associate Black Friday or end-of-year sales with major appliances and big TVs, but don't forget that there are deals to be had on the smaller stuff! Lowe's is giving deep discounts on Cuisinart Food Processors, wine chillers, and pressure cookers. All make great gifts, for you or someone on your list.
Don't wait until Black Friday: Cash in on all of Lowe's deals now!