Here's All the Free Food You Can Get on Black Friday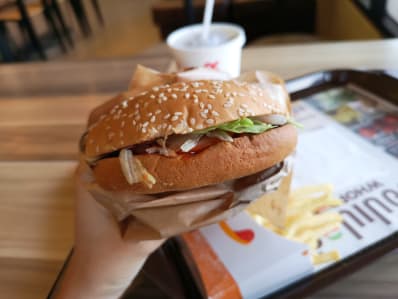 (Image credit: Thitaya Somkettarin/Shutterstock)
Black Friday, Cyber Monday, and basically everything between Thanksgiving and Christmas seem to be about spending money — even the best of sales requires a little bit of cash on hand. But there's a saving grace hidden among the spend, spend, spend mentality, and it's the thing that will keep you sane as you rush from store to store looking for the cheapest stand mixer and the best deal on an Instant Pot: free food.
Plenty of places offer gift card deals — buy $25 or $50 in gift cards and get a little more to spend on yourself (BurgerFi, Carraba's Italian Grill, Bonefish Grill, The Cheesecake Factory), but there are better deals to be had, especially if you weren't already planning to gift restaurant gift cards (but if you were, definitely look for deals).
Black Friday
Burger King
Fast food places are the standard bearers of crazy deals for free food, and Burger King leads the way, offering free Whoppers. To get one, you have to head to Whopper-Shopper.com and shop from the website (it includes brands you'll probably shop anyway, like Macy's, Sears, and Walmart), and you earn credit toward your free Whopper.
Jack in the Box
Thankfully, Jack in the Box makes it far simpler to get their Black Friday weekend BOGO ribeye burgers: you just have to sign up for their mailing list.
7-Eleven
Sign up for the 7Rewards app (this is a common theme this year) and you can get a slices of pizza for $0.50 all weekend — and while you're there on Black Friday, you can fill up any vessel (less than 10 inches in diameter, watertight, and food-safe) for $1.49. (I'm guessing we'll see some creative stuff there.)
Nékter Juice Bar
Pop in for a BOGO 16-ounce juice or smoothie — if (you guessed it) you download their app. Only available until 11 a.m.
Quiznos
ToastyPoints rewards members (yup, another app) get 20% off any order with an in-app coupon.
DoorDash
If you can't even face the mall and are shopping from home, the first 15,000 customers to order from participating restaurants (Wendy's, Applebee's, Chik-Fil-A, etc.) get free fries. It's Black FryDay, get it?
Potbelly Sandwich Shop
Buy a sandwich, get a free cookie. Those turkey leftovers can wait another day.
Cyber Monday
Baskin-Robbins
Stop into stores around the country from 3 - 7 p.m. to get a sample of their new flavor, Red Velvet Roll Cake — it's Creole cream cheese ice cream.
Moe's Southwest Grill
If you've got a kid — or can borrow one from a friend — you can get a free adult meal with the purchase of any children's meal. If, of course, you've downloaded the app.