5 Things to Know About the Iconic Big Green Egg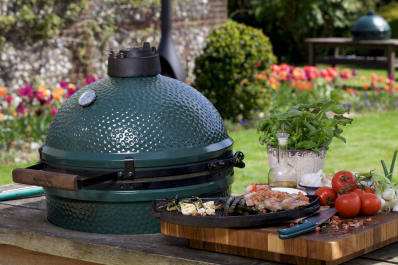 (Image credit: Courtesy of Big Green Egg)
As grilling season approaches, you'll be hearing a lot about the Big Green Egg, which basically looks like a giant avocado. People are so fanatical about this grill that they have an official name (Eggheads) and they have in-person events (known as Eggfests!).
Are you a secretly an Egghead and you just don't even know it yet? Before you go out to buy one, here are some key things you should know about the Big Green Egg.
1. It's not as easy to buy as your standard grill.
First of all, you won't find it on Amazon and you can't walk into the nearest Home Depot to buy one. It's only available at authorized dealers, which you can find on the Big Green Egg website. And you'll have to embrace avocado green, as green is the only color it comes in. Also, be prepared to make a major investment of $400 to $4,000, depending on what size you opt for. The large is the most popular size and costs $850. But the good news is that when your Egg is delivered, it will be fully assembled and ready to go.
2. It's super heavy.
The XXL weighs in at 424 pounds! The one you're most likely to buy, the large, is still 162 pounds. If you plan to move it around the backyard, spring for a "Nest" (otherwise known as a stand), which has wheels, when you buy your Egg.
3. You're gonna need a different kind of charcoal — and a workspace.
Instead of briquettes, you'll need to buy harder-to-find lump hardwood charcoal. But this type of charcoal lights easily, so you won't need to worry about dealing with a fire starter. (Plus, you won't have to replenish the coals while you're cooking.) Next, think about setting up a work station nearby. There is no storage space, warming racks, or tool holders on board.
4. It's incredibly versatile.
By adjusting the vents on the top and bottom of the Egg you get perfect heat control, allowing you to cook hot and fast (crusty-but-rare T-bones!) or low and slow (falling-off-the-bone baby backs!). With the heat cranked up, it can double as a pizza oven; lower the heat and it can be used as a smoker. Barbecue brisket and pulled pork are yours! You'll be amazed by the fact that whatever meat you're cooking it'll come out moist and tender.
5. Use and care is easy.
You're unlikely to burn yourself, as the ceramic exterior doesn't get as hot as a metal grill and the coals are protected deep inside the base. After cooking there's almost no ash to clean up.
What else do you want to know about the Big Green Egg? Leave your questions in the comments below and we'll try to answer them in another post!
Kitchn supports our readers with carefully chosen product recommendations to improve life at home. You support us through our independently chosen links, many of which earn us a commission.