The Best Wines to Drink While You're Wearing a Sheet Mask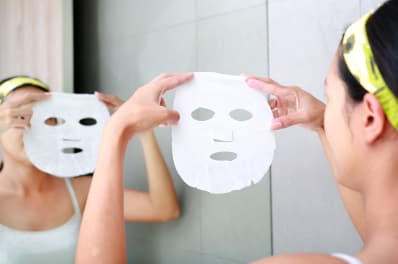 (Image credit: GOLFX/Getty Images)
Doing a mask makes me feel like I'm accomplished something, when really all I'm doing is hanging out on my couch for a few minutes with goo on my face. Do any of the hundreds of masks on the market actually do anything? Does it matter?
Whether or not we're all getting hosed, masks are a great way to relax on our own or take embarrassing photos with our friends — so we definitely need something to drink while we wait.
Here are my favorite mask-and-wine pairings.
If you're looking for a brightening mask ...
For all those brightening masks built around the power of fruit enzymes, you'll want something similarly fruity, like one of my favorite grapes to both say and drink: Sicily's Frappato. Centonze's version, with its bright-pink label, makes me happy every time I see it. Its flavors remind me of fresh raspberries and lavender, and it tastes great when chilled a little bit. My favorite brightening mask? The Instant Brighten and Tighten Hydro Serum Facial Mask from Andalou Naturals.
If you're looking for a pore-clearing mask ...
Those pore-clearing masks that yank out all the gunk lurking in your face require a big, deep breath — and a few sips of something equally deep. Amarone is an Italian red wine that's almost as dark as those charcoal masks. Made from dried grapes, it's fuller-bodied and higher in alcohol than your standard red table wine. Allegrini's Pallazo Della Torre is made with only partially dried grapes, making it a little more appropriate price- and flavor-wise for weeknight consumption. Pair it with this mask, which comes in a pack of 10 — meaning you can make this a tradition.
If you're looking for a soothing mask ...
I'm a wuss. I don't like to stay up late. Just thinking about Crossfit makes me want to hide under my bed (although there are probably dust bunnies under there and I don't like those, either). And I'm just not gnarly enough to pile a ton of dark, leafy greens into my smoothies. So, soothing masks are my jam, and to go along with a hydrating, plumping, treat-yo-self type of mask, what better than a wine that makes you feel like you're on vacation?
I love white wines from Greece, because even though I haven't made it there yet, they mentally transport me to a breezy Mediterranean island where I magically look good in white and never spill anything on myself. Anyway, this blend of Assyrtiko (a native white grape of Greece) and Moshoudi (a Muscat clone that's "perfume-y and exotic" instead of "sweet") will make you feel like your palate has had a spa retreat. Throw a couple of cucumber slices on your eyes and put on your fluffiest robe.
Kitchn supports our readers with carefully chosen product recommendations to improve life at home. You support us through our independently chosen links, many of which earn us a commission.