The Lazy Girl's Guide to Drinking More Water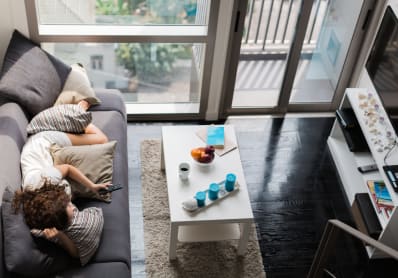 (Image credit: Mosuno/Stocksy)
Hydration is pretty important. (Understatement of the year alert!) It's part of the cure for so many things — jet lag, hangovers, and even hunger pangs, in some cases — and it's oh-so-vital to the body, which we're always reminded is up to 60 percent water anyway. So why is it so darn difficult to actually drink enough of it?
Officially, the USDA recommends between two to almost four liters a day for adults depending on age, sex, and health status. So I've always made it a point to aim for eight (eight-ounce )glasses of water a day, or approximately 1.9 liters, which is hard, but not impossible. Even if you're pretty lazy (like me!) there's an easy strategy to help get the job done.
See, I've tried it all. In the past, I've tracked my glasses of water on a notepad, bought bottled water in bulk (which can be expensive, less than eco-friendly, and often the first thing I forget to pack in the morning), and even bought cute water bottles that fit in my purse.
But I've since learned that my hydration issues are primarily rooted in the location of my office's kitchen, which is basically on the opposite side of the floor from my desk. When you're trying to stay laser-focused and get stuff done, regular trips to the kitchen just don't happen like they should. The average water bottle or 20-ounce tumbler just doesn't cut it and I don't have time to keep refilling a cup!
Enter the 64-Ounce Hydro Flask, which has made all of my #hydrationgoals a reality. Because if I fill that giant bottle up with water and ice in the morning and make it through the entire container before I head home for the day, I'm pretty much set.
Quick disclaimer: Hydro Flask bottles are not cheap, but they do live up their hype. Drinks really do stay cold in them for up to 24 hours. Have I run a stop watch and used a thermometer to fact-check that claim? No. But on at least one occasion, I've noticed that the ice left at the end of the day hasn't fully melted by the following morning, and that's enough proof for me.
The bottle is double-walled stainless steel, so there's not much condensation or any of that BPA nonsense to deal with. Leaks and drips will only happen if you put the lid on wrong — and that's on you. For me, though, I'm most into the fact that, unlike other (albeit prettier patterned!) bottles I've used, there's a big opening to put in standard full-sized ice cubes. Hint: Buy the separate Wide Mouth Straw Lid top. This way, you won't take a bath with each gulp and you don't even have to pick up the bottle. Just position it between your keyboard and your mouth and slurp as you type.
This is seriously the only water bottle you need. (A fact that appeals to my laziness, as I don't want to have to shop for more than one or deal with organizing them all!) It really has helped me get better at drinking water throughout the day, and it saves me time and a little bit of energy without sacrificing water quality or temperature. Plus, it's lifetime warrantied. And for that, I'm grateful.
Kitchn supports our readers with carefully chosen product recommendations to improve life at home. You support us through our independently chosen links, many of which earn us a commission.