The Little Grocery Store Item I Always Pick Up as a Travel Souvenir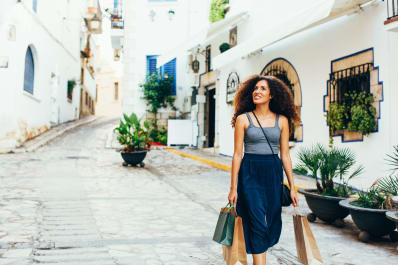 (Image credit: BONNINSTUDIO/Stocksy)
I worked as a cashier at my hometown grocery store for years — on weekends when I was in high school, and during the summer when I was home from college. Over the years, I bagged my fair share of groceries, and was always impressed when a customer brought a particularly interesting reusable shopping bag. (First of all: Good job saving the planet! And second, love that you clearly put some thought into it!)
Sometimes it was an obvious souvenir item, like an "I (heart) New York" tote, or something more sophisticated, like a French-looking mesh market bag. As I got older and started grocery shopping for myself, I accumulated my own assortment of cute bags from Trader Joe's and Whole Foods, but decided to diversify my collection when I left for a semester abroad during college.
I studied abroad in Amsterdam, and on my first trip to the local Dutch supermarket (a phenomenal chain called Albert Heijn!), I made sure to purchase a branded reusable bag. Many grocery stores in Europe charge you for plastic bags, so I considered shelling out a measly two euros for the fabric bag an investment. Not only did it get easier to tote my groceries back to my apartment via bicycle, but I also felt 10,000 percent more like a local.
(Image credit: Jelena Jojic Tomic/Stocksy)
During my time studying abroad, I traveled to other cities, like London, Paris, Barcelona, and Stockholm, and made sure to pop into a supermarket in each place so I could grab a reusable shopper. These bags ended up being the perfect memento from my first major international experience: they were cheap (which was the most important quality, as I was an unemployed student), they'd be easy to pack up for my return flight, and they were practical. While I was abroad, I used these bags for more than just grocery shopping — they proved particularly handy for transporting laundry and hauling books home from the library.
I've continued this tradition since those months as an international student, and still purchase a bag whenever I travel somewhere new. I typically never spend more than five bucks on a canvas or heavy-duty plastic bag. I did splurge for an oh-so-cute tote from a store in Amsterdam, and when I traveled to Spain this past summer I spent around $20 on a beautifully illustrated tote in Barcelona. I feel like those have balanced out, though, because I also scooped up a 99-cent tote at H-E-B when I went to Austin for a long weekend, and two-for-a-dollar bags from a place in Reykjavik.
Importantly, my collection of shopping bags has been invaluable when it comes to moving — they're way easier to carry than cardboard boxes (hello, handles!), and they hold so much stuff. As part of my ongoing quest to master small-space living, I also use my totes to store off-season clothing — especially winter coats and sandals. They take up so much less space than bulky storage bins and I feel like they're easier to access and rummage through if I'm looking for something specific. Plus, I love thinking back on the memories tied to each bag whenever I use one.
After living in a string of tiny New York City apartments and feeling like I'm always in transition, I've tried to cut back on unnecessary clutter. Everything I bring into my home needs to have some sort of function, so ... cue the bags. I've used them for their intended purpose, and have brought my souvenirs with me to my local supermarket countless times. Perhaps the best part of globally sourced reusable grocery bags is that I feel way more cultured than I actually am when my Fruit Loops and frozen waffles get bagged into a tote with French writing all over it.
Do you do the same thing? Is there something else you get as a souvenir from the grocery store?