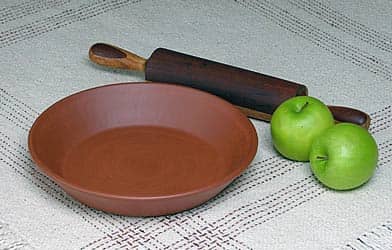 Hess Pottery: Unglazed Earthenware Pie Plates
Hess Pottery
, a little company in Reeds Spring, Missouri, started in 1979 by Tom Hess. She'd gotten one as a gift, and I've since given it as a gift. The pie love goes 'round and 'round.
The Hess Pie Plate is made from smooth, native red clay without any harmful glazes. The non-porous finish produces a beautifully browned bottom crust. Even better, it cleans up in a snap. You can even put it in the dishwasher, although, believe me, you won't have to.
Last week I gave you my favorite recipe for pie crust (Sour Cream Pie Crust). Next week I'll be sharing some of my favorite pie recipes.
Originally published Sep 9, 2008