Here's How Much You Should Be Paying for Watermelons (and How to Find a Good One)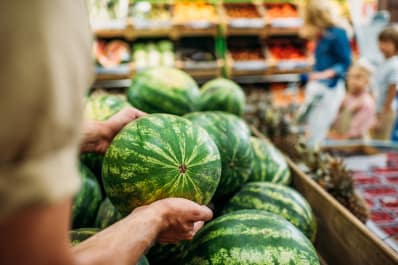 (Image credit: LightFieldStudios/Getty Images)
Whether you eat them grilled, wrapped in prosciutto, or just cut up into wedges, watermelons are one of the hallmarks of summer. And luckily, they're considered the best value fruit on the market.
Here's how much you should plan to pay — and how to get the most bang for your watermelon buck.
How Much Watermelons Cost
While it's hard to define an exact price you "should" pay, the national seasonal average retail price for conventional seeded watermelons is between 31 to 38 cents per pound, according to the USDA. Beyond that, it depends greatly on when and where you're buying your melon.
Karen King, co-owner of Mt. Citra Farm, says prices change throughout the season, following supply and demand. "The price starts out higher — and as more crops come in, goes down," she explains. As supplies dwindle with the summer, they'll spike again.
Location also matters. "Price can fluctuate even within the same city, neighborhood by neighborhood," says Stephanie Barlow, the senior director of communications at the National Watermelon Promotion Board (NWPB).
So use those USDA price as a guideline, rather than a rule — and when buying watermelons, don't assume your local farmer will be more expensive. "We try to price ours the same as the store, because then people will buy it from us," King says with a laugh. If you buy directly from a farmer, she promised you'll be able to taste a difference. Whereas those big boxes of watermelons can take a week or more to reach the customer, local watermelons are "ripened on the vine," making them "sweeter and fresher and crisper."
Lastly, when considering how much you're willing to pay, don't forget that watermelons are pretty hearty. They provide more than three-dozen servings from a single fruit, according to Barlow, and are also a zero-waste fruit: You can enjoy the flesh and juice, and even pickle the rind.
How to Pick a Ripe Watermelon at a Farmers Market
Although your mom may have taught you to knock on a watermelon to test its ripeness, Barlow says growers "don't like people beating up our watermelons with slaps and thumps!" Instead, try the "Look, Lift, Turn" method for finding a ripe watermelon.
Look: Use your common sense here. The ideal watermelon will be free of gashes and bruises, although scratches are totally fine.
Lift: Remember that watermelons are 92 percent water, so the fruit should feel heavy for its size.
Turn: Turn the watermelon over to check its "ground spot"; where it sat while it ripened. The color should be "creamy, buttery yellow," according to Barlow. If it's white, it's underripe; pink, at risk of tasting like cucumber; and "screaming sunflower yellow," overripe and mushy or grainy.
If, after all that, you get home and cut into a sub-par watermelon, consider returning it. If that sounds like too much work, get creative by making some watermelon curry or, even better, watermelon mojitos.