5 Best Baking Lessons from The Great British Bake Off Masterclass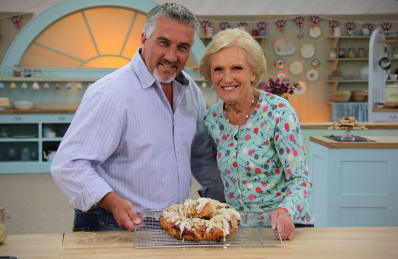 (Image credit: Courtesy of Love Productions)
The Great British Bake Off Masterclass is great background noise for when you're cooking or falling asleep. But when it comes to sitting down and watching it intently, it's kind of a soothing snooze.
Wait, What's The Great British Bake Off Masterclass?
The premise is fun: Mary Berry and Paul Hollywood "take over the tent" and show us how they would've tackled all of the challenges from the season. They transform GBBO into a cooking class instead of a competition, peppered with flashbacks and recaps from each episode. But while GBBO Masterclass ups the education ante, it also doubles down on that very mellow GBBO vibe and strips out all the tiny bits of energy and drama, rendering the series into a pleasant ASMRish mush.
The 5 Best Baking Lessons from GBBO Masterclass
Tucked into all of that baking and gentle chitchat are some nuggets of wisdom from two incredible bakers. Both Paul and Mary are exceptional at honing in on tiny details — the little decisions or moments to pay attention to that a new baker might miss.
1. A splash of milk prevents sugar explosions.
Mary Berry solves a problem that I didn't even know I had. After adding butter and powdered sugar to her stand mixer, she throws in a quick splash of milk to keep the dry sugar from erupting. Sometimes I get so anxious throwing certain ingredients in my mixer and waiting for them to Jackson Pollack my somewhat-clean kitchen. Who knew I could be solving all this with a little splash of liquid?
2. You can microwave muscovado sugar to separate the granules.
On so many occasions, I've reached into my pantry mid-recipe, only to find out that my brown sugars have turned into an unmalleable rock-candy substance. Mary recommends popping the sugar in a microwave-safe bowl and zapping it "for a flash," which looks like maybe two or three seconds. The quick heat is just enough to separate the granules so you can work with them again.
Read more: A Simple Way to Soften Hard Brown Sugar in a Hurry
3. The secret to caramelized nuts is noise.
Flex those listening skills and tune in. When you're making a simple syrup, the sugar and water will start to get noisy. Much like with homemade popcorn, sudden silence is a cue that it's time to take the syrup off the heat and swish the nuts in the pan. As for that leftover syrup, Mary recommends pouring it on a greased sheet and letting it harden into delightful bonus candies.
4. Buy the simplest, least-fancy rolling pin.
I have a very fussy beautiful rolling pin with a mind of its own. It's a little too sleek, doesn't take kindly to heavy pressure, and has basically useless knobs at either end. Watching Mary Berry roll out pastry dough with what is essentially a slightly polished log made me rethink my whole rolling pin game.
"A long, plain rolling pin is the best," says Mary as she turns a blob of golden pastry dough into a slim, evenly rolled crust for her chocolate tart. If you hunt around for a "French style rolling pin," you can get one of your own. This one on Amazon looks super similar.
The whole chocolate tart scene at the beginning of season one, episode three, is worth watching if you want to do a deep dive on how to bake pastry dough. Mary offers tons of tips for how to roll out and transport pastry, along with advice on inexpensive baking tools and specific temperatures for each step in the pastry-baking-process.
5. To mix bread dough, embrace the claw hand.
When Paul mixes bread dough in season two, episode three, he shows you how to turn your hand into a claw to gently combine the ingredients in your bread dough. Paul shows and describes the bread texture at every stage, and explains the science behind it in super-basic terms. He shakes the bread dough once it's proofed to show how it wiggles like jelly, and gives advice on what to do if your bread gets super dark once it starts baking.
He spins out all those tiny moments in the bread baking process, which is so helpful since so much of bread is based on color and texture, and for new bread bakers that intuition at each stage isn't there yet. You also get a taste of Paul's gentle teacher side instead of his usual low-key snark.
Do you watch this show? What have you learned from it?
Kitchn supports our readers with carefully chosen product recommendations to improve life at home. You support us through our independently chosen links, many of which earn us a commission.