The Best Healthy Kids' Snacks from Caribou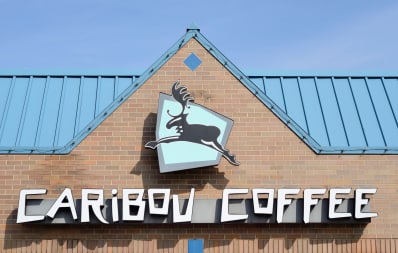 (Image credit: RiverNorthPhotography/Getty Images)
If you're lucky enough to live in one of the 18 states that has Caribou Coffee, you know how tempting their sweet coffees and treats can be. There are times when a sweet pastry and sugary latte are all you want in the world.
But other times, you're just looking to get your caffeine fix and grab a quick bite for your family — you did not intend to drive full-speed into sugar-crash city.
At chains like this one, the menu can be tough to navigate. Options that seem healthy are deceiving (they're secretly loaded with sugar and calories), while other unexpected options might actually be balanced bites for you and your kids.
According to New York City-based registered dietitian Katrina Trisko, MS, RDN, CDN, there are a few options that pack a surprising nutritional punch at this popular coffee chain. For kids especially, she recommends opting for one of these three menu items.
3 Items to Buy for Kids
1. Kids' Hot Chocolate
While hot chocolate might seem like a super-sweet drink with no more nutritional value than a juice or a soda, it actually has some surprising benefits.
"Their smaller portion is kid-friendly," Trisko explains, "and a hot chocolate with 2% milk will provide calcium and vitamin D that's important for the growth and development of kids' bones and teeth."
Sure, it's got sugar. But if you're giving your kids something sweet, you might as well sneak some nutrition into the mix!
If you're concerned about the calorie and sugar content, registered dietitian Liz Weiss has a few hacks for slimming down your kid's cup: "Opt for skim milk and skip the whipped cream. A small hot chocolate with skim milk and no whipped cream has 150 calories and 1.5 grams of saturated fat. But if you add the whipped cream on top, the calories jump to 300 and the saturated fat to 9.5 grams."
The sugar can easily be controlled by selecting the dark chocolate option over milk — you'll save 5 grams of sugar from each serving!
2. Slice of Banana Bread
Speaking of sweets, Caribou's banana bread is surprisingly low in sugar.
"It's a solid snack option for kids, with four grams of protein and only eight grams of sugar," says Trisko. "It's a much better alternative to their apple cinnamon muffin, which packs in 39 grams of sugar. That's almost as much as a can of soda!"
If you're taking the bread to go and want to bump up the nutritional value of this item even further, bring some nut butter with you in the car. The healthy fats this adds will keep your kid satiated for longer!
3. Cinnamon Raisin or Blueberry Bagel with Strawberry Shmear
Bagels might seem like they have too many carbs for you, but they play an important role in your kids' snack time.
"Carbs tend to get a bad rap," Trisko acknowledges. "But we rely on carbohydrates for energy! Growing kids need appropriate fuel to give them energy for everything they do, from school to sports."
The cream cheese will add a bit of protein and fat to keep them fuller longer so that makes this combination an ideal snack for growing kids, according to Trisko.
The Item to Avoid for Kids
Maple Brown Sugar Crunch Oatmeal
Oatmeal seems like a nutritious, healthy option. But when posed with the choice of brown sugar-flavored oatmeal or one with nuts and seeds, children are especially likely to veer towards the sweeter option.
According to nutritionist Julie Mancuso, this menu option is deceiving: "Oatmeal, the go-to staple of many athletes, looks like an ideal, nutritious snack for a child. But whatever you do, avoid brown sugar oatmeal unless you want your child bouncing off the walls."
The whole-grain oats in the maple brown sugar crunch oatmeal are topped with a whopping 16 grams of added sugar. For the same reason, Mancuso advises avoiding muffins as a breakfast item. Instead, you might want to veer towards a breakfast sandwich or other option that provides protein.
Do you have a Caribou Coffee near you? What do you buy there when you're looking for a healthier snack?