This Is the Single Best Grocery Item to Buy at CVS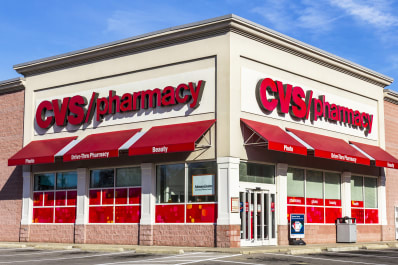 (Image credit: Jonathan Weiss/Shutterstock)
More and more convenience stores have been expanding their grocery options, adding coolers for fresh refrigerator staples and even select produce to the stores. While grocery shopping at these stores is generally more expensive than shopping at a warehouse store or an actual supermarket, you can often find good deals on pantry staples — especially through their store brands.
I recently did an official sweep through CVS to see what kind of groceries they offered. They had a small but broad selection of items — pretty much anything you might be grabbing in a pinch if you needed a few groceries on the way home from work.
The store's Golden Emblem line of snacks and pantry items is a particularly good value, and includes a range of products from cookies and honey to dried fruit and pretzel rods. This is a CVS-exclusive line of "better for you" snacks, groceries, and beverages that are free from artificial preservatives, flavors, and trans fats. The line also offers a variety of products that are gluten-free, USDA organic, non-GMO project verified, heart-healthy, high in protein, low in sodium, a good source of fiber, cholesterol, and sugar-free. Phew!
The Best Grocery Item to Buy at CVS
The thing I was most excited about from the Golden Emblem line? The mixed nut selection. CVS has a shocking number of options in the nut department, and if you need to quickly grab some nibbles because you have guests coming over, this is a great thing to keep in mind. You can find mixed nuts with peanuts, or without. Salted, or unsalted. You can even get a mix of what I would call Just the Good Ones (pistachios, almonds, and cashews). So many nuts.
I just love that nuts have an old-school appeal. I remember sneaking them off the coffee table during my parents' cocktail parties in the '80s, filling a little square paper napkin with a handful of them to enjoy out of sight of the adults. And while I love cheese and crackers, cheese can get very expensive, very quickly. Plus, nuts won't go bad if you don't eat them all — and you can stock up on a run for TP and shampoo.
In terms of pricing, I've found CVS's base nut prices to be pretty comparable to grocery stores (although usually more expensive than the bulk aisle and warehouse stores), but you're paying for the convenience. That said, there is almost always some sort of sale. On the day this photo was taken, a 24-ounce container was marked down to $7.99 (for reference, similar mixtures were $15.49 for 30 ounces at Target or $17.99 for 34.5 ounces on Amazon). And you can also usually save money if you sign up for CVS's free rewards program and have a coupon from a mile-long receipt from a previous trip.
Related: We Compared Prices for 26 Items at CVS And Walgreens — Guess Who Won?
What about you? Do you have a favorite grocery item at CVS? Is it the mixed nuts? Something else? Discuss in the comments below!
Kitchn supports our readers with carefully chosen product recommendations to improve life at home. You support us through our independently chosen links, many of which earn us a commission.