The Best Episode of "Chopped" Gives Leftovers a New Life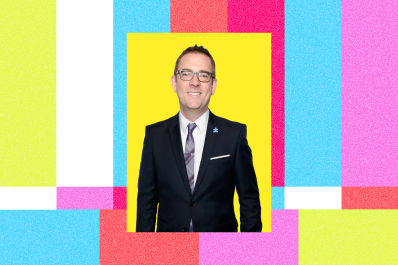 (Image credit: Cindy Ord/Getty Images)
What would you do with the food scraps that someone left behind? I'm talking about the piece of pizza with a bite haphazardly torn off before it was sent to coagulate in the fridge. The takeout packets of soy sauce scattered across a stranger's coffee table. A pile of oily fries, stiffening in the glow of a refrigerator light.
In "We Love Leftovers," episode five from season 17 of Chopped, contestants face a pile of mismatched leftovers. A wedge of German chocolate cake cozies up to a container of leftover chili. Old corn on the cob bumps up against half a pitcher of sangria. Four chefs are given three challenges where they are expected to transform leftovers into something that shines in presentation, taste, and creativity.
The Best Episode of Chopped Is About Home Cooking
The leftovers episodes, a mainstay of Chopped, showcase the challenge most of us face as we stare down the contents of our refrigerators, wondering how two stalks of broccoli, some leftover macaroni, and half a burrito can be transformed into dinner for four. Dinner in real life so rarely (read: never) begins with careful mise en place and shiny new ingredients. My dinners in real life might start with a two-day-old square of cold lasagna sporting a lacy crust of burnt cheese, or half an apple leftover from breakfast, sliced and dunked into a jar of almond butter.
I love back-pocket pastas and pantry recipes because they seem to live in the same world I'm currently occupying. But "We Love Leftovers" is even more realistic. They're not cracking open some lush, olive oil-soaked pantry goodies or bags of glimmering grains hidden in crisp packaging. They're making a slice of cloyingly sweet German chocolate cake into mole. They're breaking down some old french fries into garnish — sogginess be damned.
There are some meaty lessons in this hour of kitchen antics. Lets dig in.
1. A Positive Attitude Is a Crucial Ingredient
To approach a problem with negativity and a sneer is to guarantee failure.
Four contestants are each presented with a basket containing the remnants of a pan of lasagna, half a burger, some leftover sautéed broccoli, and a handful of untouched fortune cookies.
The episode is called "We Love Leftovers," but only two of the contestants share this sentiment. "I don't like leftovers. If I have leftovers at home, they're in the trash. I'm thinking, is there a way out of this? Is there a redo?" says Chef Krissy. And Chef Josh is quick to point out that he works in fine dining, which somehow makes him ineligible to work with leftovers.
Who makes it to the final round? Not these two. They both turn up their noses at the ingredients, and both produce dishes that offer pretty minimal innovation.
You will encounter new challenges and ingredients, but your lack of experience does not have to hold you back. Approach these moments with respect and gratitude. Flambé your disdain and preconceived notions until they evaporate.
2. The Ice Cream Machine Is Not Worth It
Seriously — ice cream machines always create problems, as evidenced by round three in this episode and so many episodes of literally every cooking competition show ever.
Your work day might not be full of ice cream-related issues. Ice cream machines are not a big part of my work life either.
But looking for the most drama-creating component of a problem, and seeing if you can remove it from the process, can be a good idea. Do you need to work with that incredibly difficult system, or person, or piece of technology? Or is there a way to pause, pay attention, and create a solution that skips out on added drama and stress?
Take a deep breath. Channel your inner Chopped chef. Tell that little internal culinary genius that this time, you're going to skip the ice cream machine.
3. Creativity Is the Missing Ingredient
"Zapping leftovers in the microwave? So uncool if you have the skills to do more," says host Ted Allen, the gentle Yoda figure of Food Network reality TV.
And isn't that the truth? I never remix half a pan of lasagna into piping-hot quesadillas with dipping sauce, but I could — and, honestly, maybe that would be way more fun. I'm down to see how I can turn some old meat and cake into an unexpectedly divine weeknight dinner. Let this creative zeal leap from your everyday meals and into your everyday work. Let it transform everything you do into something delicious.
What's your favorite episode of Chopped?