The Best Costco Wines for Everyone on Your Holiday Shopping List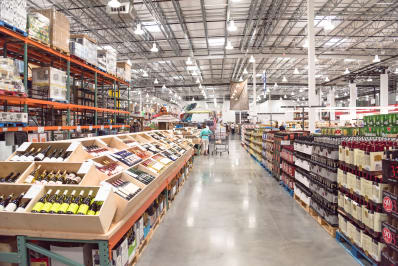 (Image credit: Trong Nguyen)
You're not going to find a wild grape variety no one's ever heard of at Costco, and you're definitely not going to find someone to make suggestions perfectly tailored to your taste. What you will find, though, are great deals on famous brands and some shockingly good Kirkland private-label wines. That's why Costco is a great place to go for all your wine needs, if you're looking to bring someone a bottle this holiday season.
Here are a few people you might have on your list, and the wines they really want to drink.
The Powerful Lady Who Loves Powerful Reds
This is the type of person who would never be caught dead drinking anything other than red wine, so if you have someone in your life with strong Claire Underwood vibes, get them Chateauneuf-du-Pape. The Costco near me carries one from Alain Jaume called Le Miocène that is around $34.
Wines in this style have the ripe fruit of something like Cabernet or a red blend, but more herbaceous, earthy flavors, and not quite as much of that mouth-puckering tannin. For something more reasonable, the Kirkland brand Gigondas (this is a neighboring area to Chateauneuf-du-Pape whose wines are made in a similar style, but tend to be much less expensive) is around $15.
The Guys' Guy
He could be your boss, he could be your neighbor, he could be your college friend you play golf with. He'll stride into a wine shop, usually wearing khakis or a suit with the jacket thrown over the passengers' seat of his luxury sedan and the first thing out of his mouth every time will be, "You got any good Cabs?"
Costco has some good Cabs for this type of guy. If you really like him, try Faust, the second label for fancy-schmancy brand Quintessa, for a classic bold, rich, looks-like-ink-in-the-glass Cabernet for around $46 depending on your Costco location.
And for full-bodied red-lover's wine on a budget, there's always the Kirkland brand Malbec at $6.99 or Cabernet Sauvignon at $8.99. At those prices you can get good old Greg a few bottles. He'll be thrilled.
The One with Expensive Taste
One of my favorite customers I've ever worked with was this woman who was probably the most stylish person I've ever seen in real life. She looked like a ballerina who then became a Victoria's Secret model and her handbags made me feel wealthier just standing next to them. She only ever drank expensive Champagne, and even brought it to the nail salon to drink through a straw while she got her toes done. I mean, COME ON. I want that life. I do my nails at home while drinking cheap Gruner Veltliner and watching the Real Housewives.
If you have this kind of person in your life, only real, brand-name Champagne will do, and Coscto has good prices on big brands like Veuve and Moet that a luxury-loving person like this would appreciate. If you're looking for real Champagne on a budget, Kirkland's Brut Champagne comes in at just under $20. The label is tastefully done, promise!
The Chardonnay Stalwart
There's a certain kind of person who loves the classic buttery Chardonnays of the '80s and '90s, and even though I don't share their affection for this style, I respect the type of person who finds what they like and sticks to it, trends be damned.
Coscto is not the place to find skin-contact Pinot Grigio from Slovenia, but it is a good place to save on brand-name Chardonnay. Try Sonoma-Cutrer at about $18 for one that the recipient will definitely drink rather than keep in a dusty closet somewhere for a special occasion, and if you happen to be there when he or she opens it, it's actually pretty nice. I find a lot of heavily oaked Chardonnays just too cloying to get through a whole glass, but Sonoma Cutrer has lightened up their style in the last few years, making it a middle-of-the-road style a lot of people will probably enjoy.
The Wine Newbie
Say you've got a younger cousin who just finished college and wants to learn about wine so they can stock their IKEA wine rack in their first apartment. Don't gift something too challenging, as tempting as that might be. Help someone start along their wine journey with something like Meiomi Pinot Noir: plush, full-bodied, with soft tannins and a hint of sweetness that just reads as "yum" rather than overtly sweet. Costco sells Meiomi for less than $16 at the location near me.
For an option that will please wine snobs and wine newbies alike, the Kirkland Côtes du Rhone is phenomenal for the price, and at about $7, you can also get that little cousin a wine book to help broaden their horizons after they've enjoyed their easygoing red. (Try Madeline Puckett and Justin Hammack's Wine Folly: The Essential Guide to Wine, or for a real throwback favorite that will make them want to quit grad school and go backpacking through Europe, Adventures on the Wine Route by Kermit Lynch.)
A Quick Note on Buying Wine for Other People
The important thing to remember when buying gifts (and as someone with passionate opinions about wine and very specific taste, I often have to remind myself of this) is that they are for the recipient, not the giver. This seems obvious, but can be hard to actually practice.
This makes Costco an ideal place to buy wine gifts because their strongest values are on classic brands and wine-growing regions people know. A gift of brand-name Champagne or an iconic grape like Cabernet Sauvignon feels festive and luxurious and doesn't tax the recipient by requiring they look up an obscure Italian grape variety and learn to make homemade pasta to go with it. The holidays are hard enough so the wine part, at least, should be easy.
What's your go-to wine at Costco? Let me know in the comments!
Kitchn supports our readers with carefully chosen product recommendations to improve life at home. You support us through our independently chosen links, many of which earn us a commission.