Some of the First Things Our Readers Ever Bought at Costco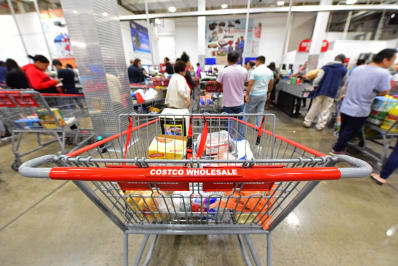 (Image credit: a katz/Shutterstock)
We ran a story last month featuring some suggestions on what to buy at Costco with a new membership. The tips came from one of our contributors, Patty Catalano, who happens to be a long-time member. She had some great suggestions, but we realized we also wanted to hear from you guys.
So we asked our readers on Facebook to tell us about the first things they bought at Costco. Here are some of the top responses.
1. Fruits and vegetables
If you can figure out a plan to eat up all the produce you buy in bulk at Costco before it goes bad, then you can save yourself some serious money. (Plus, you'll end up eating pretty darn healthfully!) Luckily, we actually have some tips for you.
Read more: 6 Tips for Buying Produce at Costco, Sam's, and BJ's
2. Vodka
Costco's French vodka from its private-label brand, Kirkland Signature, is legendary for its low price tag and top-shelf taste. We held an official taste test and the stuff won by a landslide.
3. Cookware
The selection of cookware at Costco is always changing, so you might want to keep your eyes peeled. One reader said she once got a five-piece Le Creuset cookware set for a bargain.
4. Televisions
Costco has some of the best TV prices in town. In fact, when this article was written, Costco had a 40-inch Vizio for just $250. And there's a 90-day return policy to boot!
5. Toilet paper
Hey, if there's anything worth buying in bulk, it just might be TP. At least you know it won't go bad before you can get to it! And you know you'll get to it eventually.
6. Books
For a store that only carries one or two types of ketchup, Costco sure has a lot of books. Browse hardbacks, cookbooks, puzzle books, kids' books, and more. They're all marked down to low warehouse prices.
7. Eye glasses
You might not have realized it, but Costco stores have in-house optical departments — complete with specialists who are licensed to perform eye exams and vision tests. Costco also offers huge discounts on glasses and contact lenses.
8. Diapers and baby wipes
Like toilet paper, these are two more no-brainer things to buy in bulk if you have a baby (or one on the way). Another reader suggested the baby formula: "A nurse recommended the formula. I was so exhausted, I could barely find my way but I was so thrilled to be a mom finally ... through adoption."
Let's keep this list going! What are some of the things you bought with your Costco membership? Tell us in the comments below!
Comments have been disabled.