The Best Booster Seat Isn't Much to Look at, but It's Still a Must-Have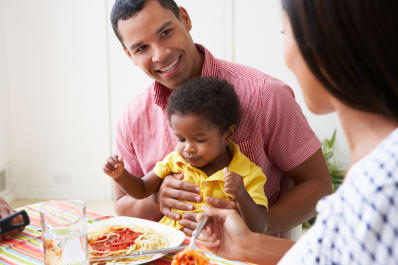 (Image credit: monkeybusinessimages/Getty Images)
We were lucky when we had our kids: My husband had two older sisters who each already had two kids. So by the time we had our first child, they'd tested all the products on the market, picked their favorites, and weeded out the ones they thought they needed but hardly ever used. They lived two different lifestyles — one in a New York City apartment, another in a big suburban house — so sometimes, the products one sister thought were indispensable didn't even play into the other's life. That was fine — we got to pick and choose what worked for us.
Funny enough, there was one item they both agreed on that turned into a must-have item for us, too: the Fisher-Price Healthy Care Booster Seat.
Buy: Fisher-Price Healthy Care Booster Seat, $27
This booster seat isn't really much to look at. It's plastic and not particularly streamlined or design-forward, and it's in the sorts of colors babies love and parents just tolerate (there is a pricier version that comes in a more neutral taupe and cream — full disclosure, I have that one too, but have never once used the accessories, so I say save your $10), but it's one of the most useful things I had when my girls were little. Here are four reasons why.
1. It fits on most chairs.
If you have a dining area but not space for a high chair, this fits right on your existing chair. And it has the tray, so it functions like a high chair. We had a high chair, also, for our first, but just used this for our second to save on floor space and so the dining area would look less kid-infested. It worked great. You can use it on pretty much any chair with a back, including bar- or counter-height chairs
2. It's easy to clean.
All the bits wipe down with soap and water, and the straps get all the way clean. Many of my friends had cooler-looking fabric seats that you clipped to the countertop in their apartments, but those always looked so filthy to me. This thing looks very clean when it's clean, and even if you neglect it for a bit, it can get back to its original state.
3. It's portable.
We brought this booster seat to restaurants for dinner and to friends' or grandparents' houses for visits. As much as I love my children I don't like to hold them in my lap while I eat, for various reasons (total mess, but more importantly, it makes it hard for me to eat, too!), and this was an easy solution.
4. It's durable.
As far as I can tell, this seat will last forever. We inherited one that's now 10 years old and it's still in good shape. We bought the second one when both kids needed boosters at the table. Now they've pretty much outgrown them (although about once a month my 3-year-old declares she needs a booster and asks for it), but we've kept the one to grab when younger kids come to visit. It folds up so it doesn't take up much storage space, and it's nice to have a high chair on demand!
I'm sure there are newer, fancier models, and they're probably just fine. But I'll keep recommending this booster seat because it was such a big part of our lives!
Have you tried this booster seat? Do you have another one you'd like to suggest? Let us know in the comments below!
Kitchn supports our readers with carefully chosen product recommendations to improve life at home. You support us through our independently chosen links, many of which earn us a commission.