11-Year-Old Competes on MasterChef Junior After Losing Both His Parents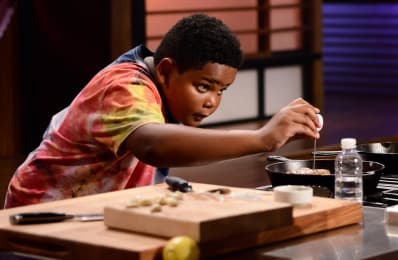 (Image credit: Fox Broadcasting)
The new season of MasterChef Junior premiered last week, and one of the young stars of the first episode is 11-year-old Ben Watkins, an aspiring chef from Gary, Indiana. The precocious young cook dreamed of becoming a chef someday, and even sold his own baked goods at his parents' barbecue restaurant, Big Ben's Bodacious Barbeque & Deli. But on September 16, 2017, he lost both his parents in an unimaginable tragedy when his father shot and killed his mother, then himself, in what investigators ruled to be a murder-suicide.
According to The Daily Meal's Taylor Rock, Ben's family and community rallied to take care of the 11-year-old. Local residents have been raising money for him, and a GoFundMe started in Ben Watkins' name has raised $5,000 for a trust fund to pay for his education, health, maintenance, and support. Ben's parents' restaurant was forced to close down after their deaths, but other local restaurants are planning a fundraising barbecue for him after this tragedy.
Ben says when he grows up he wants to become a chef, or maybe an engineer because his favorite school subjects are math and science.
Ben's dream is to someday own a restaurant like his parents did, and as part of his path to pursuing that dream, he's competing on the new season of Gordon Ramsay's MasterChef Junior.
"We are so thrilled to have Ben on this season of MasterChef Junior, and although there have been some trials in his young life, he is really focused on his culinary dreams and time on the show," a Fox spokesperson said in an interview with the Northwest Indiana Times.
The new MasterChef Junior season premiered with a special, two-hour episode last week on Fox. Watkins will be competing against 39 other children between the ages of 8 and 13 for a $100,000 grand prize. I know I'm going to be rooting for him!