Being a Mom Is Equivalent to Working 2.5 Full-Time Jobs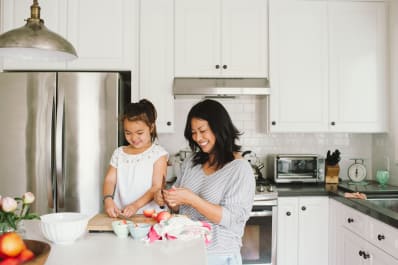 (Image credit: Kristin Rogers Photography/Stocksy)
A new study says that the average mother spends 98 hours a week — the equivalent of two-and-a-half full-time jobs — doing parenting-related things like making food, buying food, and trying to get small human beings to eat their dang food already.
That sounds about right to me.
According to Yahoo, the study was commissioned by Welch's, and it analyzed the daily schedules of 2,000 mothers of school-aged kids between the ages of 5 and 12. On average, the moms "clocked in" at 6:23 a.m., and then "clocked out" at 8:31 p.m., seven days a week. That's 98 hours a week, or the equivalent of two-and-a-half full-time jobs (and that's if the 8:30 clocking out actually happens and the kids stay in their beds until morning).
I've never worked two full-time jobs at once, but for a few years I did work a full-time office job and a part-time job on the side, totaling 12 hours a day, five days a week. It seemed like a lot at the time, but I look back fondly on that period, because I had way more free time than than I do now as a mom. Oh, the hobbies I had! The movies I saw! (In theaters, even!)
But childcare takes a lot of time, even when the children are not physically present. Four out of 10 mothers surveyed said their week felt like a never-ending series of tasks. And hours disappear to things like reading all the nutrition labels in the grocery store, keeping track of appointments, and googling "how to test for lead."
According to the study, a lot of parents' time is spent thinking about food. Seventy-two percent of the mothers surveyed said they felt like getting their families to eat healthy snacks and meals was a struggle. And 83 percent said they felt pressure to include fruit and vegetables in their family's diet.
Dealing with picky eating can definitely be tough, especially when it comes to finding things that everyone likes. And then if you do find something that everyone likes, just wait a week and someone will decide they hate it.
There's reason for optimism on that front, though, because research indicates that picky eating is a common phase kids go through — it's related to the way they perceive bitterness — and most of them will outgrow it. That won't really save you any time (the kids will definitely provide something else to fill the hour that used to go to googling "how to get kids to eat vegetables"), but at least it might make things marginally less stressful.