Before & After: Kitchen Breakfast Nook Makeover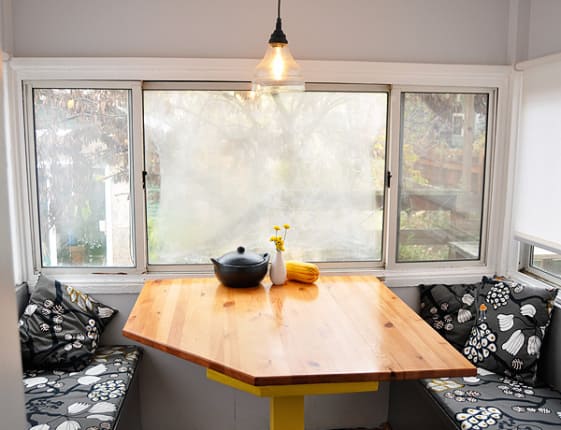 This week I have been showing the special projects I did in my rental kitchen this past year to make it a little more beautiful and functional. I transformed a dark closet into a pantry, and I lightened up the kitchen itself with a good old-fashioned paint job. Now comes the last project, and the one I'm proudest of: A breakfast nook makeover. From dingy camper-style to my favorite spot in the house... read on to see what we did!
What I Had
I live in a 100-year-old house and like most of the homes in our neighborhood, there is a little back porch area. Most of the homes here have enclosed this back porch to make a deck, or a breakfast nook, or even an extra room. Ours was walled-in to make a breakfast nook, with two benches and a table. We loved this feature; it's part of why we rented the house.
But the nook itself, while a great feature, needed some serious help. It was painted a dark, dirty brown — even the ceiling. It had plasticky fake-leather seats, stapled roughly to ugly benches. The wrinkled laminate on the countertops was also used on the table in the nook (I can't tell you how much I hate this stuff). The previous tenants had put in the bench cushions, and also plaid blinds that had accumulated layers of dust and cat hair.
We quickly tore out the blinds and replaced them with simple white blinds from IKEA that gave privacy but let in light. But the place needed a lot more help than that.
So, a year after we moved in, we finally made some major changes.
What I Did
The first order of business was paint.
• We primed the whole nook, and painted it the same color as the kitchen (Olympic Paint's Moondance). I also painted the trim around the doorway and windows a bright white. The ceiling got a couple coats of ceiling paint. It felt immediately so much brighter and cleaner!
• Then we painted the benches a dark grey. We had hoped to make the benches into storage, but it proved to be a little complicated and more work than we wanted to put into a rental. So we just painted the benches, after tearing away all the icky vinyl cushions and padding. I contracted with a local crafter to make bench cushions and pillows out of some inexpensive IKEA fabric. She did a great job, and these cushions made a huge difference to the space.
• JuneB on Etsy & in Columbus, Ohio
Once all this was done, we tackled what we thought would be the toughest part: Replacing the tabletop.
• We found the perfect top at IKEA for only about $40. It was an unfinished top, and we stained and sealed it, then replaced the old gross tabletop with this one. This sounds hard, and we were very apprehensive about it, but it turned out to be relatively easy!
The last pieces were artwork, and a new light. I also picked up a vintage metal stool for a song from a local vintage shop. The artwork, which I love, is from Sandra Juto:
• Russian Print and Rain Print from Sandra Juto
I framed them in (what else?) IKEA frames, and hung them up.
• We also found a vintage-style light at Collier West. While we love the light, it was a major pain to hang and set up; it needed to be rewired, basically. (We still plan on shortening the cord we attached, and adding a light switch, to make it look more sleek and built-in.)
After all was said and done, yes, this was a major project. It cost several hundred dollars, over the course of a year or so, in paint, material, cushions, tabletop, and lighting. And all for a rental home! But this was one of those calculations that all renters make; how much to do to a temporary home?
This space, attached to the kitchen, is such an integral part of our lives — we work in here in the summer, eat breakfast in the mornings, and put fresh-baked cookies in there to cool. It's a workspace, and a fun space, and so relaxing, with its view to the outdoors. For us, it was worth the time, expense, and energy to really transform it into a space that was beautiful and energizing. (Honestly, the photos do not do justice to its grodiness before the remake.) There are still some issues with it — cloudy double-paned windows, for instance. But our willingness to remodel, as renters, only goes so far!!
Having this breakfast nook is really special, and I love it. I realize that not everyone has a separate dining area in their kitchen, let alone a nook. But do you have one special place in your apartment or house where you can sit in the morning for a moment of tranquility with your coffee and a book? Even if it's a special chair you love at the dining table, or a spot on the couch where you can see out the window, think about that as the Kitchen Cure wraps up. Can you add a note of beauty to one spot in the kitchen, or in your dining room?
More Kitchen Projects
Kitchn supports our readers with carefully chosen product recommendations to improve life at home. You support us through our independently chosen links, many of which earn us a commission.