Before & After: A Quirky Kitchen Gets a Farmhouse Makeover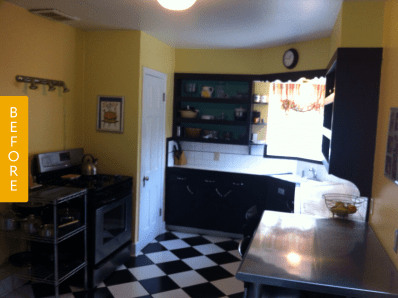 (Image credit: Matthew Peters)
We have to admit that we actually like many parts of Matthew's "before" kitchen — the sleek black cabinets, the black and white tile floors — but we also know that such a distinctive space doesn't always fit in with the rest of a home's design. Plus, since this kitchen was the original from 1941, it definitely needed a few upgrades.
(Image credit: Matthew Peters)
If you're thinking this kitchen looks a little bigger, your eyes are not deceiving you. Matthew writes that they took the kitchen down to the studs and opened up the wall between the kitchen and the dining room to create more space.
(Image credit: Matthew Peters)
Here's another look at the kitchen before the remodel. One of the biggest benefits to this update was that they moved the appliances around to create an easier workflow for cooking. Here's where the fridge is now:
(Image credit: Matthew Peters)
You can see that the sink looks over into the dining room, giving the kitchen a much more open feeling. And we love the subtle archway to the opening. Plus, look at all the storage they added to the kitchen!
Thanks so much for sharing your remodel with us, Matthew!