Beer Review: St. Lenny's Belgian-Style Rye Double IPA from Shmaltz Brewing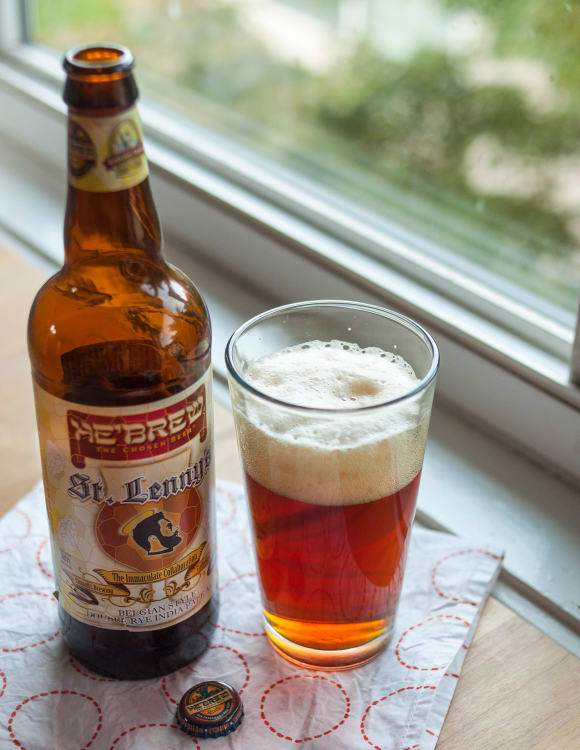 How many styles can you possibly cram in a single beer and still emerge with something quaffable? At least three! Here we have an IPA that has not only been double-fied but that was also made with rye malts and then brewed with Belgian yeast strains. Definitely crazy. Definitely extreme. Definitely awesome.
Beer Stats: St. Lenny's from Shmaltz Brewing Company, New York, NY — Collaboration brew with Cathedral Square Brewery (Belgian-Style Rye Double IPA, 10% ABV)
Appearance: Sunset orange and crystal clear with a hearty cap of lemon-colored foam.
Aroma: Orange juice, caramelized fruit, spicy rum, vanilla
Taste: I've been sitting here trying to translate my notes into coherent thoughts, but even now — an entire day after drinking St. Lenny's — my words come out as a babble of "Candy! Grown-up candy!" and "tartbitterstickyspicyorangeyresinwow" and "ZOMG!" This is a massive beer and it definitely doesn't put up with small descriptions.
Every element of this beer comes through in the flavor: the warm spiciness of the rye and the Belgian yeast, a fruit salad flavor that also comes from the yeast, the deep candy caramel from the double dose of malts, the intense bitterness of the hops that ripples into orange and pine resin flavors. There's a sourness too — it reminds me of apple Jolly Rancher candies. It's juicy and coats your entire mouth and doesn't let up for a second.
In a fit of end-of-day fatigue, I poured this beer straight into a pint glass without reading the ABV (10%...ahem). Lemme just say, an entire pint of this stuff before dinner is not recommended. A more reserved tulip glass with dinner is another story — this beer is fantastic with food (see below).
This beer isn't going to be for everyone, but if you love IPAs and you love Belgian brews, it is worth combing all your local stores to find yourself a bottle. If you're into hoarding, this beer will likely age spectacularly.
Food Pairings: I drank this beer (the second half of my pint) with a bowl of beef bourguignon. Any rich and hearty winter stew would also be fantastic: chili, beef stew, black bean stew... The richness of these stews tempers the harsher bitter flavors in the beer while the boldness of both beer and stew are a good match.
Apartment Therapy Media makes every effort to test and review products fairly and transparently. The views expressed in this review are the personal views of the reviewer and this particular product review was not sponsored or paid for in any way by the manufacturer or an agent working on their behalf. However, the manufacturer did give us the product for testing and review purposes.
(Image: Emma Christensen)