Beer Review: The Bruery's Saison de Lente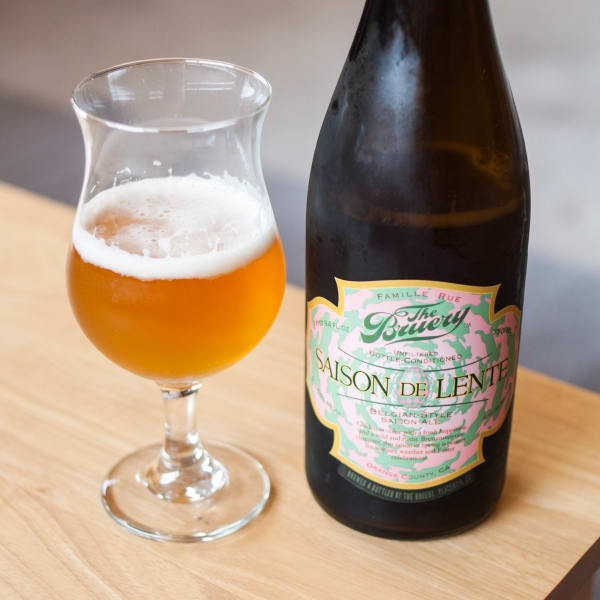 A beer that's fit for our Easter table! Indeed, this rustic Belgian-style ale is specially crafted to match both the season and its celebrations. It's snappy and tart, fresh and light, and it's the perfect match for everything from glazed ham to Peeps.
Beer Details: Saison de Lente from The Bruery, Placentia, CA (Belgian-style saison, ABV 6.5%, IBU 35, Available March - May)
Appearance: Pure gold with a frothy cap of foam — a thick layer of foam at first that quickly thins to a slim cap.
Aroma: Funky and sweet, rough around the edges. Fresh-squeezed oranges.
Taste: Very fresh and snappy! There's a nice push of lemon and juicy orange flavors with each sip, bracketed by a subtle funk and sourness from the Brettanomyces added during fermentation. A drop of honey peaks through mid-palate and adds some welcome sweetness. Herbal hops at the end and a bone-dry finish.
On its own, this saison is merely good — but with food, it becomes something amazing. This is a beer that truly complements the food on your plate, never overwhelming what you're eating, but also not just fading into the background. With its crisp flavors and dry finish, I feel refreshed after each sip and ready for the next bite of food.
Food Pairings: Easter dinner! But beyond what you're serving this one Sunday of the year, this saison would pair well with big dinner salads, grain salads, and baked fish.
Have you tried this beer? What do you think of it?
Related: Quick and Dirty Guide to Belgian Beer Styles
(Image: Emma Christensen)