Beer Review: Burton Baton from Dogfish Head Craft Brewery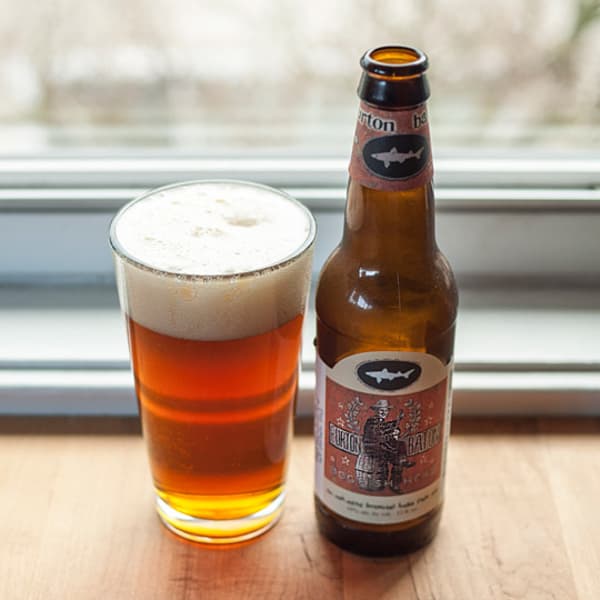 With all the amazing one-off beers that Dogfish Head constantly churns out, I sometimes forget about their stable of year-round workhorses. This was my first time trying their Burton Baton, an oak-aged imperial IPA, and hooo boy! Workhorse it may be, but this is definitely one prize stallion of a beer.
Beer Details: Burton Baton from Dogfish Head Craft Brewery, Milton, DE (oak-aged imperial IPA, 10% IPA, 70 IBU)
Appearance: Clear sunset orange with strings of carbonation running through. It holds a parchment-colored thread that leaves sticky lacing down the glass.

Aroma: Peach fuzz, tangy, soft woodsy herbs, caramel
Taste: Where to start with this one?! The first sip bowled me over with a shot of oaky-flavored caramelized malts, but this quickly snapped into a grapefruit-tart and perfume bitterness that lingered well into the finish. It's spicy. It's thick and chewy. It's like holding a hard caramel candy in your mouth while sipping a cup of strong black tea.
This mish-mash of flavors might sound totally peculiar, but it works. I kept sipping, and sipping again, and sipping some more, each time tasting something new and interesting. I love the unexpected way the oak and vanilla flavors contrast with the bitter IPA character. The beer picks up more spiciness and wheat-bread character as it warms, along with some dark caramel richness. Yum.
Food Pairings: Go with a cheese plate with this one. Sharp and pungent cheeses to cut through the IPA, nutty aged ones to compliment.
Have you tried this beer? Thoughts?
Related: Oyster Stouts? What's the Strangest Beer You've Ever Tried?
(Image: Emma Christensen)