Beer Review: Brother Thelonious from North Coast Brewing Company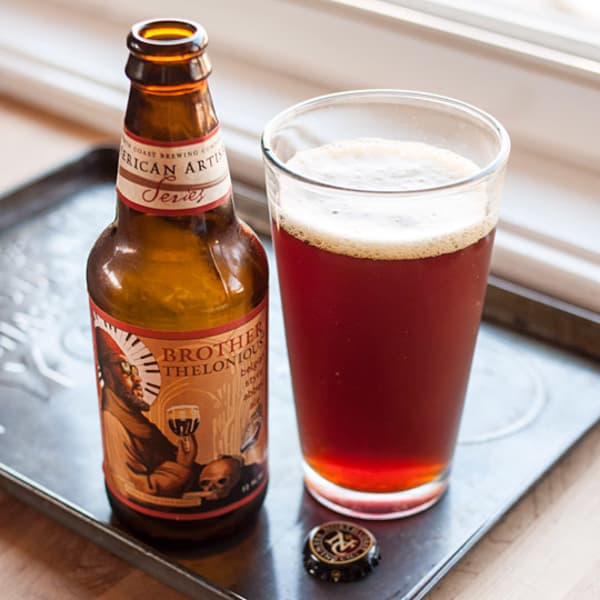 Jazz and beer, who can ask for anything more? Brewed in partnership with the Brother Thelonious Institute of Jazz (a donation is made to the institute with every bottle sold), this smooth and nutty-sweet Belgian-style abbey ale just thing for riding out these last snowy days of winter.
Beer Details: Brother Thelonious Belgian-Style Abbey Ale from North Coast Brewing Company (Belgian-Style Dark Strong Ale, 9.4% ABV, 32 IBUs)
Appearance: Clear mahogany brown with a thick head of toast-colored foam.
Aroma: Wow, the aromas really pour out of the glass on this one. Sweet brown sugar candy, clove and cinnamon, roasted nuts, fresh-squeezed orange juice.
Taste: The sweet and luscious flavors of candied nuts reel you in on the first sip. This one is nectar-sweet with very low hops bitterness (a good one for those of you who aren't fans of the hop). There's a frutti-tutti flavor that can't be traced back to any single fruit — it makes me think of those first few magical seconds of chewing Juicy Fruit gum. There's a lingering toasty grain flavor in the finish.
Every sip of this one seem to reveal something new with this one. After warming a bit, the flavors coalesced into much more of a discernable banana bread flavor. Very drinkable on its own or with food.
Food Pairings: Grilled steak and roasted potatoes.

Related: Quick and Dirty Guide to Belgian-Style Beers
(Image: Emma Christensen)