Beer Review: All Day IPA Session Ale from Founders Brewing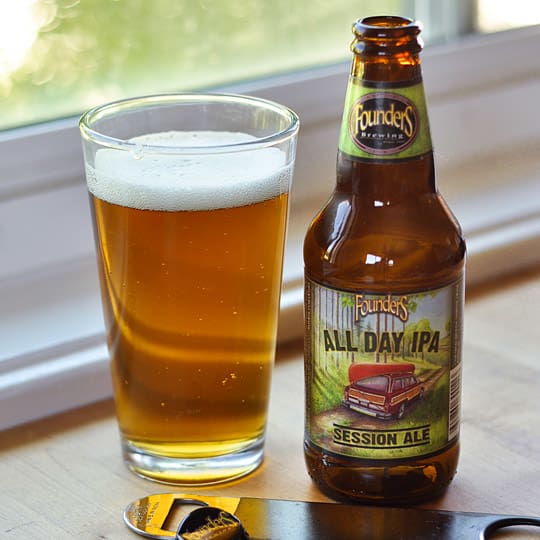 Lazy summer afternoons call for lazy summer brews — the kind you can sip for hours while laying in a hammock and still feel pleasantly buzzed. This Every Day IPA, a new low-alcohol session ale from Founders Brewing Company, is just such a beer.
Beer Details: All Day IPA Session Ale from Founders Brewing Company, Grand Rapids, Michigan (India Pale Ale, 4.7% ABV. Currently only available in Michigan, Ohio, North Carolina, and the Chicago-area.)
Appearance: Very clear golden ale with lemon-yellow glints around the edges and some lovely lazy bubbles streaming up the glass. An initially thick head of foam settles down to a thin sudsy cap.
Aroma: Hello, hops flower!
Taste: Nice hit of lemony citrus hops right off the bat. They crackle across the tongue and settle into a lingering earthy bitterness in the finish. This IPA isn't overly bitter, but definitely has enough flavor going on to keep it interesting.
The beer is thin-bodied and feels a bit empty in the middle where the malts usually reside. This is somewhat due to the nature of session beers: to keep the alcohol down, the malts have to be scaled back. Deeper malt flavors and body are the sacrifice.
Still, if you're looking for a lighter ale to see you through a hot afternoon, this is a great one to have. It's super-refreshing and has a nicely balanced hop profile to make mouths happy.
Food Pairings: I sipped this beer with a giant bowl of chips and salsa. It's an excellent pairing with spicy foods. Try it also with spicy tacos or grilled shrimp skewers.
Have you had a chance to try this beer yet? Any thoughts?
Related: Refreshingly Bitter Summer Cocktail: Campari & IPA
Apartment Therapy Media makes every effort to test and review products fairly and transparently. The views expressed in this review are the personal views of the reviewer and this particular product review was not sponsored or paid for in any way by the manufacturer or an agent working on their behalf. However, the manufacturer did give us the product for testing and review purposes.
(Image: Emma Christensen)