Nutty, Spicy Beef Suya
We
independently
select these products—if you buy from one of our links, we may earn a commission. All prices were accurate at the time of publishing.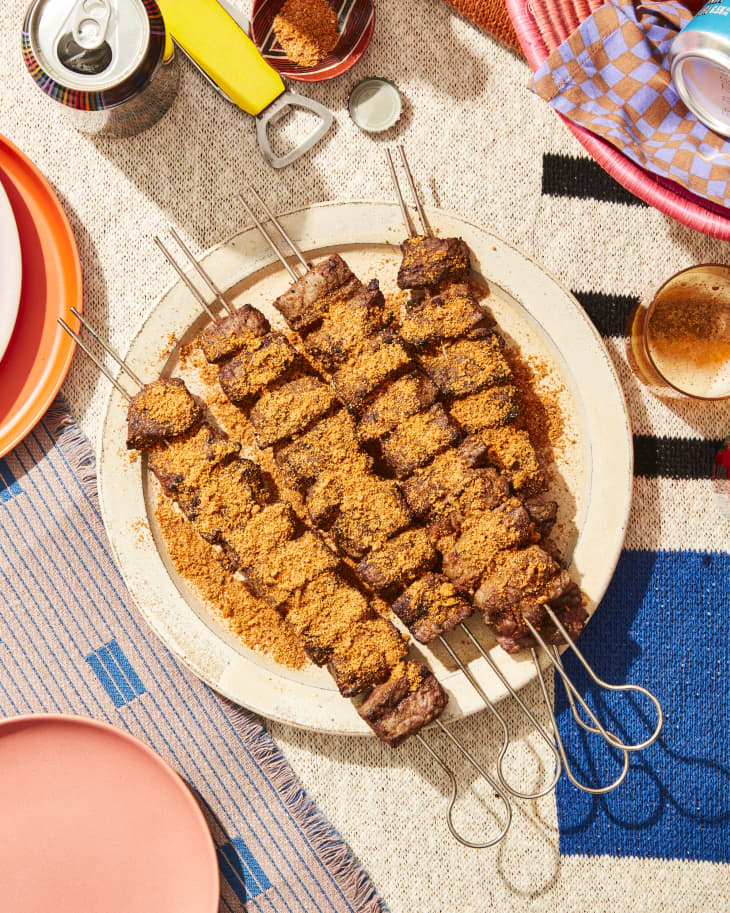 This recipe is part of Kitchn 100 — the hundred recipes you need right now. Check out all of the amazing dishes, from Kitchn and beyond, here.
While I was in college, my mom moved back to Nigeria where she's been living ever since. Prior to that, I hadn't spent any time in Nigeria as a young adult. Luckily, I grew up in Dallas, Texas, where there is quite a large Nigerian population. (Fun fact: My mom used to have monthly meetings with everyone who was from her village in Nigeria but was now living in Dallas — and it was more than enough people to fill a room.)
Growing up, I ate lots of Nigerian foods like jollof rice, akara, and puff puff, but the dish I always wanted most, because it wasn't something we made at home, was suya.
Suya is a spicy grilled meat skewer that's popular in Nigeria and other parts of West Africa. You can use anything from chicken to beef to goat and people will often include innards like liver. The seasoning on top of it is called suya spice — or yaji. It's a mix of ground roasted peanuts, ginger, garlic, onion powder, cayenne, and paprika. Hands-down, suya spice is my favorite spice mix because it's got lots of heat with delicious notes of peanut throughout. I use it on everything, including slow-roasted salmon.
These days, whenever I travel back to Nigeria to visit my mom, I usually have one thing on my mind upon arrival: suya. In Lagos, you'll find plenty of street stands with someone expertly grilling suya, and I love to watch as they beautifully char the meat and season it to perfection. While no one can make suya quite like those street vendors, it's a dish that's easy to make at home if you have a grill. This recipe is for beef suya and I went with sirloin because it's easy to find, affordable, and it gets tender on the grill. As you're breaking out your grills for the summer ahead, I highly recommend treating yourself to some of these delicious skewers.
These spicy, aromatic beef skewers are a popular street food throughout Nigeria and other parts of West Africa.
Prep time 35 minutes
Cook time 12 minutes to 16 minutes
Makes12 skewers
Serves4 to 6
Nutritional Info
Ingredients
For the suya spice:
2

tablespoons

dry roasted, unsalted peanuts

1

teaspoon

cayenne pepper

1

teaspoon

garlic powder

1

teaspoon

ground ginger

1

teaspoon

onion powder

1/2

teaspoon

smoked paprika

1/2

teaspoon

kosher salt
For the beef suya:
2

pounds

sirloin steaks (about 2)

2

tablespoons

vegetable oil, plus more for the grill

3/4

teaspoon

kosher salt

12

skewers

Sliced red onion, for serving (optional)

Sliced tomatoes, for serving (optional)
Instructions
Make the suya spice:
Place 2 tablespoons dry roasted, unsalted peanuts, 1 teaspoon cayenne pepper, 1 teaspoon garlic powder, 1 teaspoon ground ginger, 1 teaspoon onion powder, 1/2 teaspoon smoked paprika, and 1/2 teaspoon kosher salt in a high-powered blender or a spice grinder. Pulse on high speed for 5 seconds. Stir with a spoon to loosen up the mixture. Repeat pulsing and stirring 2 to 3 times more, until the peanuts are ground to a powder. (Don't over-blend or the peanuts will become oily and form a paste.)
Make the beef suya:
Pat dry 2 pounds sirloin steaks dry with paper towels. Trim off any excess fat around the edges and cut each steak in half horizontally (also known as butterflying). Working with 1 piece at a time, place inside a gallon zip-top bag and seal the bag, pressing out as much air as possible. Pound with the flat side of a meat mallet, rolling pin, or small skillet to an even 1/4-inch thickness. If your steaks are too large for the zip-top bag, cut them in half first. Cut each steak lengthwise into 1-inch strips, then cut the strips crosswise into 2-inch pieces.

Place the steak, 3 tablespoons of the suya spice, 2 tablespoons vegetable oil, and 3/4 teaspoon kosher salt in a large bowl and mix together using your hands until the steak is evenly coated. Refrigerate for at least 30 minutes or up to overnight to marinate.

About 30 minutes before you're ready to cook, soak 12 wooden or bamboo skewers in water if needed. If using an outdoor grill, heat to direct, medium heat (about 350ºF). If using an indoor grill pan, heat over high heat right before cooking.

Thread 5 to 6 pieces of sirloin lengthwise onto each skewer, threading each piece twice so that it lays fairly flat. When the grill is ready, brush the grates with vegetable oil. Working in batches if needed, place the skewers on the grill in a single layer. Cover and grill until deep grill marks form on the bottom, 3 to 4 minutes. Flip the skewers, cover, and grill until the sirloin is just cooked through, 3 to 4 minutes. Transfer to a large plate or platter. Sprinkle the remaining suya spice over the skewers.
Recipe Notes
Make ahead: The suya spice can be ahead and stored in an airtight container at room temperature for up to 3 weeks.
The marinated sirloin can be refrigerated overnight.
Storage: Leftovers can be refrigerated in an airtight container for up to 4 days.