I Tried 4 Popular Beef Stew Recipes and the Winner Is a Cozy, Meaty, Comforting Delight
We
independently
select these products—if you buy from one of our links, we may earn a commission. All prices were accurate at the time of publishing.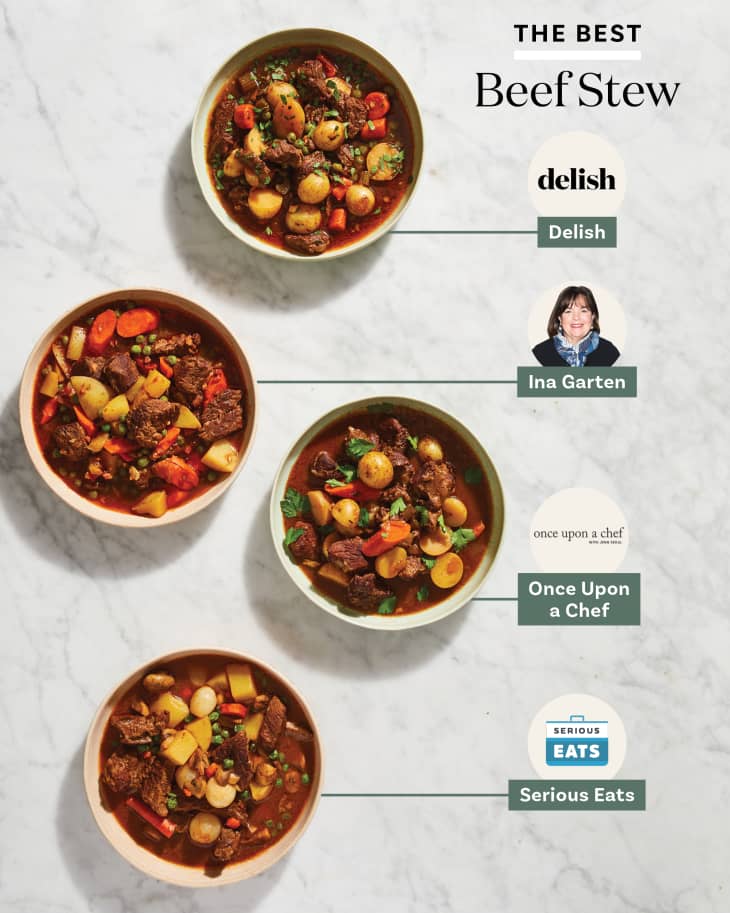 On a cold, blustery night, my ideal meal is a hearty beef stew. I like mine chock-full of tender chunks of beef, loaded with carrots and potatoes that are tender but not mushy, with a broth that's savory, rich, and slightly thick but not at all gloppy. Even though it contains potatoes, I still often enjoy beef stew over a bed of mashed potatoes (try it — it's heavenly).
Whenever I make beef stew, though, I just wing it, which means my results are inconsistent to say the least. I was eager to discover the best beef stew recipe — one that could become the standard for my family. They were eager for me to find this ideal recipe, too, because it would mean that we'd be enjoying beef stew more often. So I searched online and found four popular, highly rated recipes to pit against each other. I'm happy to say that I found a clear favorite.
Meet Our 4 Beef Stew Contenders
For this showdown, I stuck with fairly classic American-style beef stew recipes — meaning no French beef bourguignon, Hungarian goulash, Irish Guinness stew, or the like. Instead, I focused on stews that featured chunks of beef with onions, carrots, potatoes, maybe some wine, stock, and perhaps some green peas. I chose recipes that offered their own unique spins on this classic recipe.

Once Upon a Chef's Beef Stew with Carrots and Potatoes recipe seemed very straightforward at first glance. It features chunks of boneless beef chuck, carrots, and baby potatoes, and includes a generous amount of red wine along with a splash of balsamic vinegar.

Ina Garten's Ultimate Beef Stew recipe calls for beef short ribs rather than the usual beef chuck, and includes pancetta and fennel, along with a generous splash of Cognac or brandy.

Delish's Best Ever Beef Stew appeared to be a much faster process than any of the other recipes. It's the only stew that eschews the oven and is cooked completely on the stovetop, which means it's ready in less than two hours.

Serious Eats' All-American Beef Stew looked like a more involved process but I was curious to know if the extra effort would pay off. It features a handful of heavy-hitting umami-building ingredients like anchovies, soy sauce, and Worcestershire sauce.
How I Tested the Beef Stew Recipes
I made the stews on three consecutive nights (two stews on the last night), saving the leftovers so that my family and I could try them all side by side at the end. Not surprisingly, all of the leftovers held up well and tasted perhaps even better a day or two later. My ratings are based on overall flavor, ease of preparation, and texture.  
1. The Lightest Stew: Delish's Best-Ever Beef Stew
I was excited at the prospect of a comforting beef stew in under two hours. Delish's recipe achieves this by keeping all of the cooking on the stovetop (the other recipes pop the Dutch oven into the oven to slowly simmer). The ingredients and method all seemed pretty standard: In a nutshell, brown the meat, sauté some aromatics, add liquid, and simmer. Of all of the recipes, this one used the smallest amount of meat and, proportionally, the largest amount of liquid. The end result reflected this difference. Overall, the stew just felt thin, more like a soup than a stew. The flavor was rich, the beef was tender, but the broth simply lacked body.
2. The Project: Serious Eats' All-American Beef Stew
I always enjoy the deep dives taken at Serious Eats — all of the food science and flavor principles that go into making a recipe truly delicious. This stew recipe is full of that type of intel, and the recipe itself feels like more of a fun project because of it. You start by blending together some star umami-building ingredients like tomato paste, anchovies, soy sauce, and Worcestershire sauce. Then you cut chuck roast into steaks, brown them, and cube them before combining the meat with vegetables and the remaining ingredients. It's by no means a difficult recipe, but it is a bit of a process. The results are absolutely worth it, however. The meat is juicy and tender and full of concentrated beefy goodness. The stew is the embodiment of umami richness. The broth is full-bodied and complex. The recipe is just a little more of a process than I'm willing to take on for a go-to recipe — especially knowing that some other recipes deliver just-as-tasty results with less fuss.
3. The Straightforward Standout: Once Upon a Chef's Beef Stew with Carrots & Potatoes
There is nothing earth-shattering about the ingredients or the method in this recipe, and that's a big part of what makes it so great. You start by getting a good sear on cubed chuck roast, then you sauté some onions and garlic with a little balsamic vinegar. For the liquid, you use equal parts (2 cups each) dry red wine, beef broth, and water. You simmer the meat in the oven for a couple of hours, then add carrots and potatoes to cook for one more hour. The results are sublime. The meat is buttery, the veggies are tender with not too much give, and the wine and balsamic create a rich broth with a little perkiness that keeps it from being one-note.  
4. The Beef Stew of My Dreams: Ina Garten's Ultimate Beef Stew
I'll cut to the chase here: Boneless beef short ribs make for a superior beef stew. After a long simmer, they become moist, incredibly tender, extremely beefy bites. Think about your favorite braised short ribs recipe, then imagine that in beef stew form (yes, it's that good). Add to that some chewy bits of browned pancetta, flavor complexity from Cognac and fennel, and a bit of acidity from diced tomatoes, and you end up with a thick, hearty stew with a flavor that will haunt you until you make it again and again and again. 
Do you have a favorite beef stew recipe? Let us know in the comments!